Tun Bao ancient castle village is situated in a gorge. Accesses to the village can be made via one of the two passes, one is the Yunshan Tun pass in the east, and the other pass is at the back in the south. The old-style residential buildings there are evenly set out in the mountain area. Courtyard houses and three-sided courtyard houses are the highlights of its architectural designs. Benzhai village was built taking advantage of the two terrestrial features offered by Mother Nature: the Sancha River as the first line of defence and the Qingshan Mountain as the backup defence. There are seven towering stone watchtowers around the village.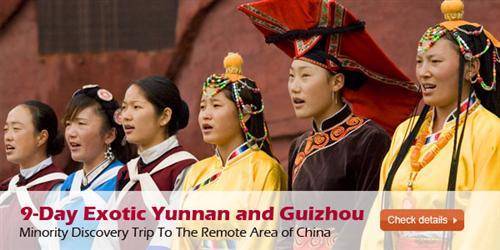 History
The history of Tun Bao castle village can be traced back to the Ming Dynasty(1368-1644). At the start of the newly founded dynasty, Zhuyuanzhang, the founding emperor of the Ming dynasty sent a troop to border town Yunnan to strengthen the military presence along the border area. The troop had their headquarters set up in Anshun of Guizhou province soon after. After the rebels were routed out of Yunnan, Zhuyuanzhan ordered the troopto self-support themselves by settling down locally and taking to farming. Villages started to form following military regiments: tun, bao, guan, wei, shao, suo, pu (military units in Chinese). These troop-turned-farmers would till the land and grew crops in peace time and go to war when called upon. These Tun Bao people thus live and prosper on this land for hundreds of years, creating their own unique culture called Tun Bao Culture, a mixture of local culture and Central Chinese Culture.
Scenic Spots
Tun Bao town is a world made of stones. The whole country town has been fortified by stone constructions. Stones have been widely used to build residential houses, watchtowers, streets and etc. Stone craft reached its peak here in such wide applications. Take a vantage point on the towers to admire the country town with its orderly white courtyard houses, you are sure to be impressed.
The enclosed courtyard houses are the architectural standouts here. These residences have the typical components of main entrances, main living rooms and wing rooms. The gate of the courtyard house was built in a slant-brow shape, looking very much like the written Chinese Word ' 八', and the door frames supported by huge blocks of stones are exquisitely decorated. Wooden window frames of the main living room are also richly carved into patterns representing good luck and fortunes. The main room is flanked on both sides by wing rooms and together with the front entrance gate, they form into a rectangular shape with a center courtyard as the activity space.
The village is crisscrossed by alleys and laneways, which connect to each household and form part of the defense system that came into play at strategic points, in linear arrangements and on the ground. Walls overlooking the alleys have small holes on them for opening fires and also for lighting. Stone doors were built in a lowered-down fashion to allow for swiftly blocking of attacks from the outside. Even now military structures such as gun platforms and gun muzzle holes can still be found in the village.
Dixi Opera-the Living Fossil of Opera Art
Dixi Opera, or Tiaoshen dance (dances for gods), is one of the oldest operas in China. It was performed to tell stories, to offer sacrifices and to entertain. The stage of Dixi Opera can be anywhere, at the front of a household, or on a vacant lot in the village. It is often performed in the open air. When in performance, the performers will wear wooden masks and their movements are stiff and rigid. Songs, speeches, dance-acting and combats are adopted in the performances. The subject matter of Dixi Opera can be historical or legendary such as the Contest between Chu and Han Kingdoms, the Creation of the Gods, Xue Tang Rebels against Tang Dynasty, Romance of the Three Kingdoms, Legend of Loyalists,
Tun Bao costumes
Tun Bao Women's costumes and accessories are the star attractions here. Knee-length Long robes with wider sleeves are typical of Tan Bao women's dressing styles. The robe's neckline, cuffs and front are embroidered with colorful designs. Their waistlines are tightened with brocade ribbons that hang down to their knees. Their long hairs are coiled and netted in a bun on the back of the head and secured with a jade hair pin and other silver crafts. The hair styles women are wearing can tell their marital status: an unmarried girl will wear a single braided hair while a married lady will tie her hair into a bun and have her forehead shaved and eyebrows lined. Other accessories women wear are earrings, bracelets, rings, muffs, long skirts and ankle-length embroidered cotton shoes, the making of such shoes involves techniques such as fine needlework, padding, etching, bordering and rolling and so on.
Tun Bao Food
Tun Bao food comes into great varieties. Glutinous rice cakes and corn cakes are common staples on the dining table of Tun Bao people. Preserved and dried pork, red bean curd, dried and salted vegetables, dried black bean sauce, fermented capsicum,… etc. are inherently local dishes. These foods have longer use-by dates and can be stored for longer period and they will grace the dining table when visitors come to dine.
Solo Adventure Tips:
Location:

How to Get There?
A 20 kilometers bus ride from Anshun Gymnasium Station to Qiyanqiao County charges for 2-3RMB. Tourists can also take mini-bus in Anshun at not more than 50RMB. After reaching Qiyanqiao, take a tractor of local people to the Yunjiu Mountain and then walk to the Yunshan Tun or spend 15RMB for a return trip by motorcycle.
Ticket Price:

Opening Hours:

More Tips:

Information accuracy:
We try to make the information on China Travel accurate when we write/edit it. If you find any outdated information, please inform us.