Chengbi River, starting from the foot of Qinglong Mountain in Lingyun county, stores up into a huge lake at Leye basin northeast of Baise. Since the water in the lake is clear and clean, the lake is thus given the name 'Chengbi Lake'. The lake has an area of 39 square kilometers and has a water capacity of 1.15 billion cubic meters. The main part of the scenic spot consists of the natural landscape of the lake, with clear water, open view, various exquisite islands and islets. Around the lake there are winding and elegant streams circling the remote mountains and canyons. Over the lake, there are birds of different kinds throughout the year. There is also a natural stone head portrait of a Zhuang and fair-sounding folklore about the origin of the stone. In addition, there are attractions such as Spring Cave and Kwan-yin Temple. Around the lake, there are two highways winding the lake and extending for over ten miles. The fields near the lake are fertile and are covered with trees that produce semi-tropical fruits such as mangos, litchi, longan and jackfruit. Chengbi Scenic Spot has opened up other attractions such as Pine Island Cultural Village, Grand Temple, Longevity Statue, Wealth Cave White-water Rafting (with 17 scenic spots inside), Chengbi Plaza, Fighting airplanes and tanks.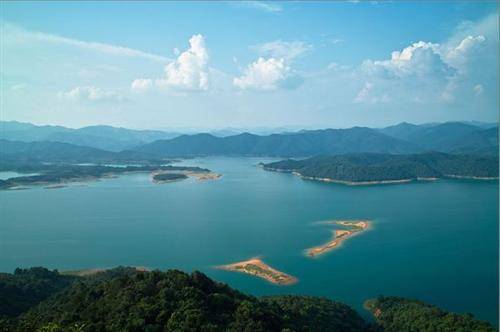 Chengbi Lake
Solo Adventure Tips:
Location:

How to Get There?
Take Bus No. 7 starting from the city or take a taxi which will cost around 20 yuan.
Ticket Price:

Opening Hours:

More Tips:
Tips: (1) Chengbi Lake is actually huge and takes at least two to three days to cover one circle of the lake by yacht. The attraction is only part of the lake. (2) Tourists can take a yacht to enjoy the scenery of the attraction. The price for taking a yacht varies from 6 yuan to 12 yuan per person, while the price for a speed boat is 25 yuan per person. Those who want to rent a speed boat should pay 200 yuan and the tour lasts for about 20 minutes.
Information accuracy:
We try to make the information on China Travel accurate when we write/edit it. If you find any outdated information, please inform us.