The Embroidery Street is as beautiful as a picture. It has a very long history, with a strong Zhuang folk style. So the street is favorably called 'the live Zhuang museum'. During the Ming Dynasty and the Qin Dynasty (from 1411 AD to 1650 AD), Jiuzhou was governed by Shunzhou and was the hometown of Madam Wa, the well-known heroine during the anti-Japanese period. There are abundant humanity views and famous historical sites in the attraction, including the tomb built in Ming Dynasty for Zhang Tianzong, tumulus groups for the Qin's in ancient times and the well-known simple and unsophisticated elegant embroidery street. Embroidered balls used to be the traditional arts and crafts in Jiuzhou and are the featured souvenirs in Jingxi. The handcraft is exquisite, fine and in good taste. In ancient times, embroidered balls used to be the keepsake of love for young one's sweetheart in Zhuang minority. Nowadays, they become the keepsake of luck for friends and relatives.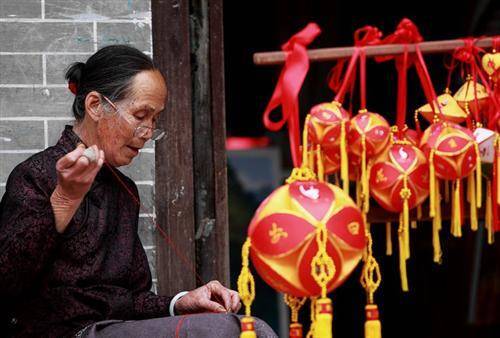 Jingxi Jiuzhou embroidery street
Solo Adventure Tips:
Location:

How to Get There?
Take a taxi from Jingxi County, which takes fifteen to twenty yuan. Price for the tickets: 5 YUAN per person
Ticket Price:

Opening Hours:

More Tips:
Tips: (1) Many finely embroidered balls and hand-made Zhuang arts and crafts are sold in the street, which are perfect souvenirs for friends. The price varies from seven yuan to twenty yuan. (2) The most exquisite embroidered balls are barbola balls made by old Jingxi handicraftsmen who adopt the ancient but complicated embroidered craftwork
Information accuracy:
We try to make the information on China Travel accurate when we write/edit it. If you find any outdated information, please inform us.