Buliu River was said in legend to be formed by the spring of alcohol from the mountains faraway. In Zhuang dialect, 'Bu' means spring, and 'Liu' means alcohol. Buliu River, starting from Mount Qianwan in Tianlin County, passes Lingyun, Leye and Tian'e County and flows into Hongshui River in Nongtan area. The whole river is 132 meters long and is also called Buliu River Gorge. It is part of the cave groups in Dashiwei. The numerous underground rivers inside the caves form a quiet overground river. Taking a raft down the stream, tourists can see the steep cliffs on both sides and dense woods. The woods cover over 90% of the forest. They are old and huge, with cirrus circling. In the forest, there are plenty of plants and species, some of which can only be seen in tropical rain forests. Buliu River is sheltered with green trees on each bank all year long. There, wild monkeys gather and play, the fish swim and shuttle and birds sing and speak. Therefore, the river is called "Kingdom of plants and heaven of birds" by experts. Over the Buliu River there is a natural stone arched bridge formed by three fallen mountains. The bridge, called "fairy bridge" by local people, is located a segment downstream in the driftage river. The fairy bridge is like a huge dragon that crosses in the river. The bridge is 145 meters in height, 78 meters in thickness, and 177 in span, with an arch bore of 67 meters tall. The bridge and river form unique scenery. The natural stone arched bridge is just rare and impressive. It is been called the biggest the most beautiful aquatic born bridge in the world by the expert. So the bridge is highly worthy of being visited.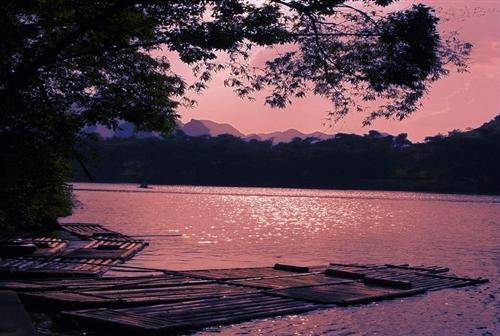 Buliu River
Solo Adventure Tips:
Location:

How to Get There?
Take a non-stop bus in Baise. After around three hours' drive, which covers 165 kilometers, the bus will reach Leye County. The fare costs 45 yuan. Tourists can take another bus at Leye station to get to Moli village. It takes about one and a half hour to reach the village. The bus ticket costs 10 yuan.
Ticket Price:

Opening Hours:

More Tips:
Tips (1) Rafting from Dongla hamlet, Moli village to the fairy bridge and to the point of departure in Moli village costs 90 yuan for an adult and 60 yuan for a kid, which is arranged and charged by the tour bureau. The rafting lasts for three and a half hours or so. (2) Dining: There are a lot of light repasts of original native cuisines in Leye County. Therefore, tourists can enjoy delicious food, such as fresh wild vegetable, walnut, the dog meat, cured pork, soiled chicken, and fresh-water fish. Tourists can also try "Local Mao-tai", an alcohol made by the villagers themselves. (3) At Leye County you can go to live in the Huomai cultural village. Accommodation costs ten to twenty yuan per person per night; featured food costs 15 yuan per person per meal; 15 yuan for taking a taxi. You can come back by the host's cross-country car for free. Here you can also appreciate the sunrise and sunset. Enjoy the moon, too, if the moon appears at night.
Information accuracy:
We try to make the information on China Travel accurate when we write/edit it. If you find any outdated information, please inform us.