Yuedong Assembly Hall used to be the site of military headquarters of the seventh Red Army. It has preserved the legendary historical sites and served as the headquarters for Baise Revolution.
Built in Qin Dynasty by merchandisers from Guangzhou living in Baise, this assembly hall is an ancient architecture made of stones and wood with a distinct ancient southern construction tradition and style. The whole architecture covers an area of 2,331 square meters, with a construction site of 2,661 square meters. The assembly hall stands in the west and faces the east. Its principal axis consists of the front hall, the central hall and the back hall. There are four symmetrical wing-rooms and corridors on each side of the principal axis, which connect the halls and make the whole architecture special and splendid. The corridors of the halls and the paths to the courtyards are paved by red bricks and rectangle stones. What hold the ceilings of the corridors are large wood columns or granite quadrels. The walls of the three main halls in its principal axis still preserve extremely fine water-and-ink mural paintings.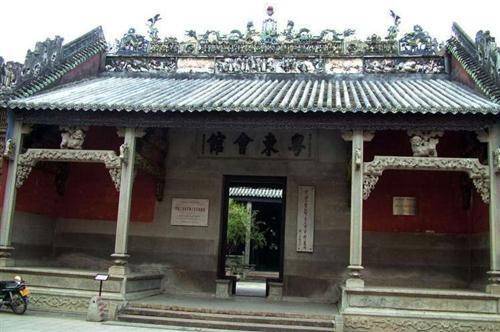 Yuedong Meeting Hall
Solo Adventure Tips:
Location:

How to Get There?
Take Bus No.6 or at the Zhongshan Bridge take a left turning towards the urban area and walk straight ahead for 200 meters.
Ticket Price:

Opening Hours:

More Tips:
Tips: (1) Yuedong Assembly Hall lies on the street which is close to the right bank of the river and where archaized goods are sold. The street is functioning with distinct features and worth visiting too. (2) The tour guide is free of charge.
Information accuracy:
We try to make the information on China Travel accurate when we write/edit it. If you find any outdated information, please inform us.