With a total area of 36 square kilometers, the island extends for 6.5 kilometers from south to north and has a width of 6 kilometers. The circling-island road, which connects scenic spots, villages, ports, is 15.6 kilometers long. The island has an annual average temperature of 23℃ and a rainfall of 1863mm, with no extreme hot summer days and no harsh winter days.Surrounded by water and covered with dense vegetation, the island is beautiful and amiable and has a reputation of a heaven on the earth. Lying on the southern part of the island, the Nanwan bay forms a natural port as a result of eruption of an ancient volcano. The Nanwan Port has hills in the east, north and west side. Two arches of east and west exist in the south of the island just like a gigantic crab lying in the water. Backed a cliff as high 30 meters, the Nanwan Port is busy all day, along with all kinds of ships coming and going.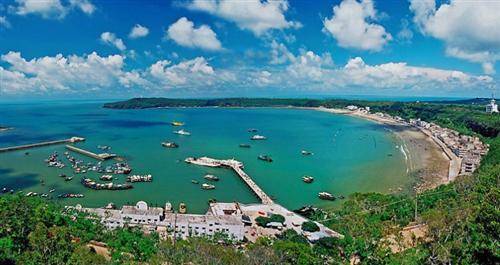 Weizhou Island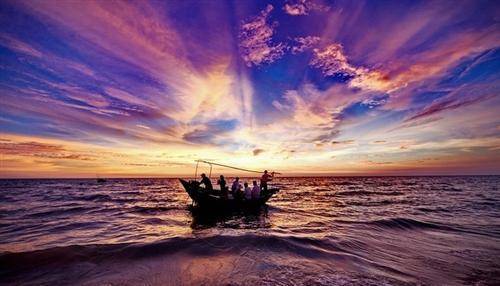 Beautiful Sunset
With beautiful landscape, the island is particularly rich in lava eroded caverns and varieties of sea animals. Near the Xigang wharf, there is a gigantic eroded stone mushroom. Some eroded stones take shapes of sea-turtle, seal, manatee and whale and so on, therefore, this area also gets another name Natural Aquatic.
Volcano Relic

lying on the southwest of Weizhou Island, Volcano Relic is one of the most distinctive tourist attractions owing to the special crater, sea-eroded sight, tropic vegetable sight, biological and astronomical sight as well as its scientific value. Its main scenic spots include the cliff sightseeing, the Dragon Palace Exploration, the Flat Roof where one can enjoy the sound of billows, and the View of Beasts Amusing Themselves in the sea.
Coral Reef
In the shallow waters around Weizhou Island grows many kinds of coral reef groups. This area is also called Undersea Garden because of its colorful lively coral. Especially, a coral reef to the southwest of the island is the nearest one. Whenever the tide is down, it turns up out of the water with fishes swimming across them. This coral reef is often compared to an Oasis in the Sea.
Catholic Church of Weizhou Island
From 1869, French Paris Overseas Catholicism spent 10 years building the church (the earlier one in Beihai) with a kind of special coral stones, earth tiles and wood. It is a Gothic Church with a total area of 774 square meters. It also has affiliated buildings such as monastery, school, hospital and orphanage.
Xieyang Island
Nine nautical miles away from Weizhou Island, 44 nautical miles from Beihai city, Xieyang Island lies to the southeast of Weizhou Island and has a total area of 1.89 square kilometers. Xieyang Island is formed by the eruption of volcano as well. Due to its small area, one can have a full view of Xieyang Island from Weizhou Island. It looks like a blossoming lotus with low land in the middle and high land around. Actually, Xieyang Island is a steep cliff with the dangerous posture. Just beneath the cliff,shells and corals are clearly in sight, not to say sharks and dangerous fishes. Xieyang Island is a fun place for pleasure or mystery with forest, paths among mountains and all kinds of sea-eroded landscapes. The island is inhabited by 2000 people who are kind, simple and hospitable. There is no market on the island, with no thieves too. If people catch too much fish, they will put it in the sea near the shore with no care of being stolen. Such a kind of lifestyle is sort of similar to primitive life which tourists can only see it in a book.
Solo Adventure Tips:
Location:

How to Get There?

Bus No.3 will bring you to the international passenger wharf, Qiaogang Town where there are two runs of ferry to Weizhou Island at 8:30. The high speed boat charges 98 Yuan and will arrive at the island within 70 minutes. The slow boat Feiyue 168 charges from 40 to 60 Yuan and will reach the island about two hours later. It's better to take a slow boat on which one can have a view of kaleidoscopic changes of weather.
Ticket Price:

Opening Hours:

More Tips:
(1). A round trip ticket in the same day could be bought in Beihai, while a return trip ticket in other days can only be bought in Weizhou Island, where a ferry returns to Beihai at 15:00 every day. If you want to buy a ticket in advance, the Ferry Ticket Office (near Xinli Mansion, Sichuan Road) is available, telephone: 0779-3066829. The International Wharf sells tickets of the departure day, telephone: 0779-3881963. You can entrust travel agencies to book tickets with a service charge of 15 Yuan for each ticket. Don't eat too much while riding a fast boat in case of vomiting on the way. (2). Transportation vehicles on the island mainly are three-wheelers, minibuses and bicycles. A car ride around the island takes more than two hours with a charge of 30-40 Yuan. Riding on a bicycle takes about half a day with a rental fee of 10 Yuan for each bicycle. Ticket telephone: 0779-6013610. If you plan to stay for several days and have more visits to the same scenic spots, a bargain with the ticket-seller will help you spare some money. All scenic spots on the island charges 5 Yuan. (3). If you want to stay on the island, the Penglai Hotel on the top of a mountain is a better choice. Because the hotel lies highly on the mountain, a trip by a three-wheeler to the hotel will cost you 2 Yuan. You may bring your rent to pitch on the Shiluokou Beach where many tourists pitch camps. (4). Have some regard for cleanness and ensure hygiene. Bring some commonly used remedy. Diets on the island are pretty costly, but you may buy some seafood and send it to fishermen for cooking, with a service charge of 10 Yuan. A meal on the sidewalk food stalls near the temporary wharf doesn't cost too much. (5). Traffic in coral on the island is illegal. Tourists should boycott buying any coral products. Wharfs on the island are becoming full of activities from 13:00, on which you can buy tourist souvenirs not more than 20 Yuan. (6). on the island, you have a chance to dive to enjoy the coral under the sea. There are two diving houses on the island. One is run by Taiwanese, where you can rent an underwater camera, with a film charged 180 Yuan, and the diving costs 280 Yuan. Another is run a businessman from Fujian, where diving price is 200 Yuan. When diving, don't touch vulnerable coral or strange creatures in case of hurting or being hurt. The best time for a diving is from 15:00 to 16:00. When the tide recedes, one can see a large number of coral and small fish in the waist-deep water, some of the coral alive, just like what you have seen under water. (7). A trip to Xieyang Island depends on motor boats or yachts. A fast boat takes about 20 minutes from Weizhou Island to Xieyang Island with a charge of 40-50 Yuan, while charting a large boat which holds 10 people may spend you 200-300 Yuan.
Information accuracy:
We try to make the information on China Travel accurate when we write/edit it. If you find any outdated information, please inform us.