Beigong National Forest Park is located in the mountainous area of the northwest of Fengtai District in Beijing, about 20 kilometers from downtown Beijing. The construction of the park began in October, 2002, and it was approved as the national forest park by State Forestry Administration in December, 2005. With an area of 9.145 square kilometers, Beigong National Forest Park mainly consists of eastern, central and western scenic areas and Beigong mountain villa. In eastern scenic area named Yingshan scenic spot, there is one cliff, two pieces of plains, six peaks and seven ravines, which is an ideal place for orienteering sports. Western scenic area named Jilefeng scenic spot used to be the holy place of Confucianism in Liao and Jin Periods. Looking down, you will see rugged mountains. The central scenic area named Langpoding scenic spot boasts 8 mountains, among which, the main peak Langpo Peak (狼坡顶) is 348 meters above sea level. Besides miraculous mountainous landscape, there are also immense forests, attracting lakes, verdurous grassland, comfortable natural oxygen bar and buildings of various styles.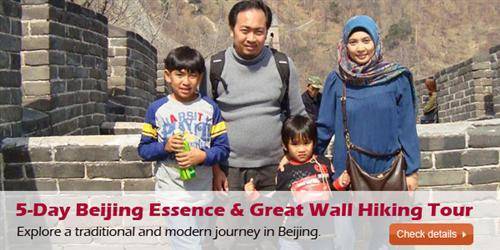 In the park, there are 12 human landscapes, including pavilions, verandas and towers. In the park, the existing human landscape include 5-meter-long and 2.5-meter-wide Ancient Stone Bridge(古石桥) built in the Ming Dynasty, Huguo Pagoda (护国宝塔), Xuanhui Pagoda (玄辉塔) which is 198.5 meters above sea level and Jile Cave(极乐洞)with the area of about 90 square meters. Besides, the park boasts 15 scenic spots, such as birch forest valley and Fangze brook. With the afforested area of 3,000 mu, the park abounds with 253 varieties of plants, including 21 varieties of trees of high quality and 30 varieties of wild flowers with the area of 50,000 square meters.
The forest park integrates ecological tourism, mountaineering, going angling, appreciating rareness, recreation and catering, presenting blossoms in spring, cool days in summer, various fruits in autumn and emerald green in winter. Every autumn, the park ranks as a grand viewing area for appreciating red leaves, second only to Fragrant Mountain.
Scenic Spots
Jile Peak: Jile Peak (极乐峰) is the highest peak in the park, which is 550 meters above sea level. Standing on the mountaintop, you will feel as if you were on the summit of the world.
Langpoding Main Peak: Langpoding Main Peak (廊坡顶主峰) is 348 meters above sea level, which is suitable place for sightseeing. In autumn, there are countless rich fruits.
Yanxia Ridge (烟霞岭): Located on the western hillside of Xinglong Valley in Langpoding Scenic Area, Yanxia Ridge abounds with a large number of smoke trees with an area of 8.1 hectares. In autumn, a magnificent landscape of red leaves will come into view.
Xinghua Hillside (apricot blossom Hillside): Located in Langpoding Scenic Area, Xinghua Hillside boasts an abundance of wild mountain peaches, wild apricots and a large area of orchard with the area of 4 hectares.
Zijing Mountain (紫荆山): On Zijing Mountain, there are a variety of wildlife, including grey heron, Baikal Teal, mallards, nightingale, hoopoe and rock pigeon.
Lancui Platform: Located in the central part of the park, the 243-meter-high Lancui Platform can be ranked as a superexcellent venue for enjoying a panorama view, such as stretching hills and various villages in the distance.
Qiushi (Autumn Fruits) Garden: The garden boasts a variety of fresh fruits, including peaches, apricots, strawberries, pears and plums. Tourists can enjoy themselves by picking those tempting fruits.
100 Species of Birds Forest: In this natural oxygen bar, tourists can relax themselves by getting close to nature.
Solo Adventure Tips:
Location:

Dahuichang Village (大灰厂村), Changxindian Town (长辛店镇), Fengtai District, Beijing
How to Get There?

Take No. 310 bus from Fengtai station, and get off at Xinzhuang station.
Ticket Price:

April 1 to November 30: 10 yuan per person; December 1 to March 31: 5 yuan per person
Opening Hours:

6:30 to 20:00 from April 1 to November 30; 7:00 to 17:00 from December 1 to March 31
More Tips:

Nearby attractions: Yingshan forest park (鹰山森林公园), Changxindian park (长辛店公园)
Tel: 010-83840830
Information accuracy:
We try to make the information on China Travel accurate when we write/edit it. If you find any outdated information, please inform us.