Also known as Temple of Azure Clouds, Biyun Temple is located in Haidian District, a northwestern suburb of Beijing. Sitting just outside the northern gate of Xiangshan Park, it is around 20 kilometers away from the city center of Beijing.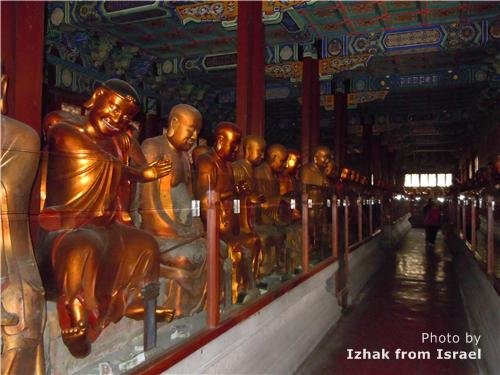 Bearing a long history, it was initially built around 1331 during Yuan Dynasty. However, it went through reconstruction during both the Ming and the Qing Dynasties and the current structure strongly reminds of Ming architecture.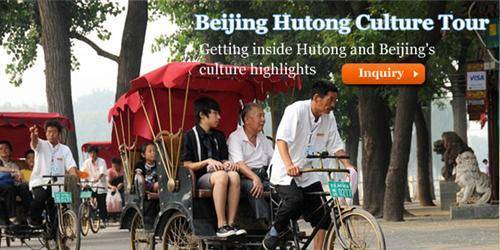 Things to do
A tour into Biyun Temple complex starts by passing through the Mountain Gate. Entering the visitor will pass by two five-meter high stone lion statues. Two five-meter Buddhist Guards, which were curved during Ming Dynasty, also stand on both sides of the gate.
The first courtyard houses a bell tower, a drum tower, Devaraja Hall, a goldfish pond and several ancient trees, including sandal wood trees. In the second courtyard the visitor has a chance to see several images of Sakyamuni and a series of figurines that feature Xuanzang's passage through India. Placed in the third courtyard is the Hall of Bodhisattvas. In the fourth courtyard one can find Rear Hall and Yat-Sen Memorial Hall.
Yat-Sen Memorial Hall, built in 1954, is one of the recent structures in Biyun Temple complex and was erected during a renovation of the temple. Yat-Sen (1866-1925), known as "Father of the Nation", was the first president and founding father of Republic of China. Above the front gate of the hall sits a red plaque with golden letters which was written by Yat-Sen's wife. Inside the hall there is a collection of his personal belongings including photographs, books and manuscripts. A crystal coffin that was donated for his funeral by the USSR government in 1927 is also by display since his body had already been buried long before it arrived.
Placed on the western side of the complex, the Hall of Arhats is the most important building of Biyun Temple. Built in the shape of a Greek cross, it was modeled after Jingci Temple in Hangzhou. Erected in 1748, during the reign of Emperor Qianglong, it bears nine rooms, one pavilion and four wells and houses 512 statues in total.
Four figures of Heavenly Kings are situated on the front gate of the hall, while three Buddhas (Burning Lamp Buddha, Sakyamuni and Maitreya) stand in the center of the hall. There are also 500 wooden life-size Arhats in different poses, two of which show Emperor Qianglong and Emperor Kangxi of Qing Dynasty. Finally, a figure of Ji Gong Buddha is placed on a beam of the hall. Legend has it that Ji Gong was late for a meeting regarding the selection of Arhats that was held in that very hall. When he arrived all seats were taken and therefore he had to seat on the beam.
Other attractions of Biyun Temple include Azure Hall of Study, Eyeglasses pond, Vajra Throne Tower and Spring Gardens. Located on Xishan (west hill), the 35-meter high Vajra Throne Tower carries elegant decoration and offers a fantastic view of the complex and the suburbs of Beijing. Spring Gardens is the perfect spot to finish your tour in Biyun Temple relaxing among pines and cypresses and listening to the calming sounds of underground streams.
Solo Adventure Tips:
Location:

North gate of Xiangshan Park, Haidian district (20 kilometers from Beijing).
How to Get There?

Bus (no. 318, 360, 634, 696, 698, and 714) to Xiangshan Station
Ticket Price:

10 Yuan per person
Opening Hours:

8.40am to 4.50pm
More Tips:

A ticket to Xiangshan Park is also required in order to access the location of the temple.
Information accuracy:
We try to make the information on China Travel accurate when we write/edit it. If you find any outdated information, please inform us.