Located in the north of Yanqing County, about 85 kilometers from downtown Beijing, Longqing Gorge is a tourist area with abundant natural resources where you can go boating, climb the mountain, avoid heat in summer and appreciate ice lanterns in winter. With Badaling Great Wall to its south, Songshan forest park to its northwest and Mount Haituo to its west, Longqing Gorge is reputed as the Small Li River beyond the Great Wall and the Small Three Gorges. However, it's more precipitous than the Three Gorges, and its water is much clearer than that of the Li River. In Longqing Gorge area, you can not only appreciate the graceful and gentle landscape of South China, but also have a taste of the vigorous and majestic landscape of North China, such as winding and zigzagging gorge, clear green river water, steep cliffs on both sides, dense forests, peculiar karst caves and stalagmites in the caves.
Longqing Gorge scenic area boasts pleasantly cool summer with fresh air, and its average temperature is 6℃ lower than that of Beijing urban area and 0.8℃ lower than that of Chengde Imperial Summer Resort. In the Liao, Jin and Yuan dynasties, Longqing Gorge area used to be the mountain resort where imperial families spent hot summer. Nowadays, Longqing Gorge is still a comfortable resort for people to avoid summer heat. Besides, Longqing Gorge boasts extremely cold winters with long ice period. Thus, in winter, Longqing Gorge becomes a frozen and snow-covered land, boasting the unique wonder of ice lanterns. Every year, the grand Longqing Gorge ice-snow festival is held from the 15th of January through the 29th of February. During the ice-snow festival, the plunging frozen waterfall falling down from the 70-meter-high reservoir dam is a highlight and breathtaking landscape of the annual festival every year.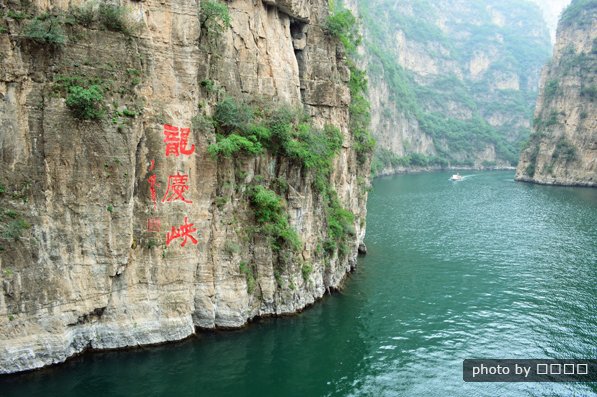 In the 7-meter-long reservoir area which opens to the public, there are 30 sceneries, such as Jiulian Cave, Mount Jiguan, Mount Jingang, Mati Pool and the ruins of Jingang Temple. There are also various popular entertainment projects, such as boating, swimming, sand bath, going angling, flying in the sky and bungee jumping.
Activities
Go Boating in Longqing Gorge: In Longqing Gorge scenic area, you can go boating in Fengguan islet which is surrounded on three sides by water. Fengguan islet is known as the sign of Longqing Gorege, with the width of 50 meters and depth of about 35 meters. The price of boating is about 20 yuan per hour.
Bungee Jumping: As one of the world's most dangerous adventure sports, together with rock climbing and parachute jumping, bungee jumping requires skills and courage, which is the challenge to the extreme. Bungee Jumping originated from an islet on the South Pacific Island and has become popular in many countries such as New Zealand, America, Canada, England and Japan. Through bungee jumping, you can experience various strange feelings at a very short moment, such as fright, madness, shouting loudly, screaming, cheering and relaxation. You must conquer yourself at the first place before bungee jumping. The bungee jumping at Longqing Gorge is 48 meters high, which is built on the cliff of Jingang Temple. The major equipments mainly adopted American ADA system device, with good technical function and high safety coefficient. The ticket price for bungee jumping at Longqing Gorge is 150 yuan per person.
Flying in the Air by Ropeway: Flying in the air by ropeway is a very stimulating sport, which is threatening but not dangerous. It not only helps participants to build up their operating skills, but also enhance their courage. Flying in the air by ropeway at Longqing Gorge is between 2 mountain cliffs, and you can see blue water below. The ticket price is about 50 yuan per person.
Drifting: Gui River boasts beautiful scenery along the way, and its most characteristic activity is drifting along Gui River. With the length of 15 kilometers, there are over 100 swerves during the journey.
Scenic Spots
Baihuaxian Cave: With the length of 320 meters and the exhibition area of 3,000 square meters, Baihuaxian Cave has 1650 varieties of artificial flowers and plants. The exhibition includes carpet of flowers, tropical rain forest, landscape of North China and the scenery of South China. The ticket price is 10 yuan per person.
Fairy House Scenic Spot: Located on the highest peak, Fairy House Scenic Spot features 300-year-old ancient pines with the height of 24.7 meters, a 4-meter-long, 3.4-meter-wide and 1-meter-deep fairy basin full of water all the year round and some strange rock and trees. The ticket price is 30 yuan per person.
Mount Yudu: Mount Yudu has relatively good hydrological conditions, with a large variety of luxuriant growth and abundant animal resources. Covering a vast area, Mount Yudu scenic area boasts adequate source of water, cool weather condition and pollution-free and quiet environment.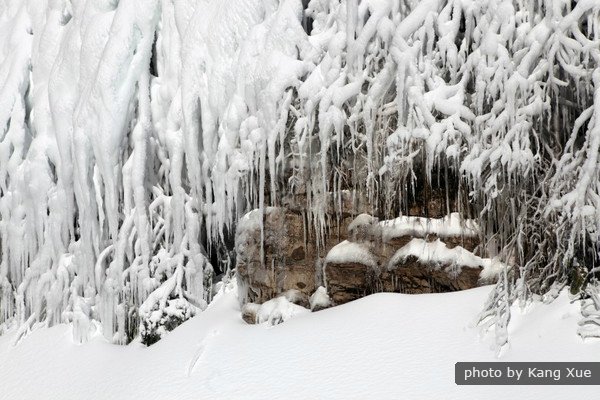 Dining and Accommodations
There are hotels nearby and a number of local restaurants with the flavor of Sichuan and Shandong cuisines.
Useful Tips
Best Time to Visit: January to February, April to October
Nearby Attractions: Songshan natural reserve, Shanrong Tombs, Yudushan Scenic Area
Admission Fee: 40 yuan for adult; 20 yuan for students with student's ID card
Opening Time: 09:00 to 17:00
Transport: Take Bus No. 919 in front of Archery Tower every five minutes at Deshengmeng to Yanqing County and then transfer to Bus No. 902 which operates from 06:00 to 19:00. Or take tourist bus No. 8 at Qianmen station and Andingmen Station.
Solo Adventure Tips:
Location:

Longqing Gorge is situated at Yanqing County, 85 kilometers northwest of Beijing.
How to Get There?

Take bus No. 919 at the Arrow Tower before the Desheng Gate.
Ticket Price:

Entrance fee: 30 yuan;
Boat cruise: 40 Yuan
Chute: 20 Yuan
Bungee: 150 Yuan

The Yard of the Immortal: 30 Yuan
Opening Hours:

7:30 am-4:30 pm
More Tips:

Information accuracy:
We try to make the information on China Travel accurate when we write/edit it. If you find any outdated information, please inform us.