Peking Former Residence of Soong Ching-Ling, covering an area about 20,000 m² was the last residence of Soong Ching-ling, the wife of Sun Yat-sen and later the Honorary President of the People's Republic of China. This site is a national 3A class tourism zone, a key site under national protection, ideological and patriotic education base for China's State organs and teenagers in Beijing. It was once a garden used by nobles in Qing Dynasty and contains buildings, flowers, trees, ponds, and rockeries. Opened to public since 1982 and renovated in 2009, It displays the traditional Chinese architecture art and modern Chinese history.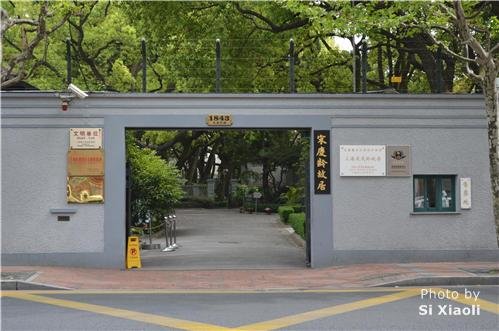 Architecture Features:
Peking Former Residence of Soong Ching-Ling has not only maintain the traditional Chinese architecture style, but also possesses features of Western architectural culture.
The main building is a two-storied ancient-style building founded in 1962. Clear water now flows through it. There are many old and precious trees in the garden, like Malus Micromalus. Two of them are planted by a famous poet named Nalan Rongruo. Soong Ching-Ling also like pigeons often feed the pigeons. There is a Pigeon house near in the garden. Many people would like to come here in the April, for they can see the beautiful begonia flowers. There are exhibitions about Soong Ching-Ling which display the life of her, with more than 20,000 relics including her scripts, photos, documentations, etc.
History of the Residence:
The residence was first constructed at the time of Emperor Kangxi in Qing Dynasty. It was originally the garden of Mingzhu, a great scholar and officer at that time, and became a garden of Heshen, a famous corrupt official, during the reign of Qianlong Emperor. In the last years of Qing Dynasty, the residence was a garden of Zaifeng, Prince Chun and father of the last emperor of Qing Dynasty. However, it has become a waste garden at the eve of the founding of New China. Zhou Enlai received the mission of reconstructing the garden as a residence for Soong Ching Ling. He had this old garden repaired and renovated and a new two-storied ancient-style building put up as the main building. It was an elegant and comfortable residence. Soong Ching-Ling moved here in 1963. She lived and worked here until she died in 1981.
A Brief Introduction of Soong Ching-Ling
Soong Ching-Ling was born in a rich business family in 1893 in Shanghai. She attended McTyeire School in Shanghai and graduate from Wesleyan College in United States. When she came back to China after graduation, she married Sun Yat Sen, leader of China's 1911 Revolution and founder of the Kuomintang on 25 October 1915 despite her parents' great objections. Thus, she began her political and revolutionary career. After Sun Yat Sen died in 1925, Soong Ching-Ling was elected to the KMT Central Executive Committee. However, she left China for Moscow in 1927, accusing KMT betrayed her husband's legacy. She returned back to China when Sino-Japanese War broke out. She built up China Welfare fund in 1939 to seek fund and support for Chinese Communist Party. In 1949 she attended the ceremony in Tiananmen Square marking the birth of the new People's Republic of China. She held several prominent positions in the new government and later became Honorary President of the People's Republic of China in her last days.
Solo Adventure Tips:
Location:

How to Get There?
take bus line 5, 27, 44, 55, 83, 305, 315, 380, 409, 625, 635, 909, 919 and get off at Deshengmen Station Or Take metro line 2 and get off at Jishuitan Station.
Ticket Price:
20RMB per person
Opening Hours:
9:00am—5:30pm in summer times (Apr. 1st to Oct. 31st) 9:00am—4:30pm in winter times(from Nov. 1st to Mar. 31st )
More Tips:

Information accuracy:
We try to make the information on China Travel accurate when we write/edit it. If you find any outdated information, please inform us.