The 9th China International Garden Expo in Beijing will open on May 18th, 2013. Located in Fengtai District of Southwest Beijing, the Garden Expo occupies a total area of 513 hectares. Ginkgo Avenue goes through the Expo from China Garden Museum to functional wetlands. There are 3 landmarks consisting of China Garden Museum, the Main Exhibition Hall and Yongding Tower.

Besides, there are five exhibitions including traditional Chinese Garden Exhibition Park, Modern Chinese Garden Exhibition Park, Creative Exhibition Park, International Exhibition Park and Wetland Exhibition Park.

There are 5 botanic gardens like Cherry Blossom Garden, Rape Myrtle Garden, Chinese Rose Garden, Peony Garden and Clove Garden. And the Expo has more than 340 flower species. It also has Wetland Exhibition Park, Jingxiugu Scenic Area, Yuanbo Lake, Hawk Hill, Children Amusement Park and so on. Jianxiu Valley is a sunken landscape garden changed from a rubbish dump, a great example of the magic of the decadent.

The theme song: A picture of heaven and earth
The creative graffiti theme: My Dream, Beijing Dream, China's Dream
Landmarks in the Expo
1. China Garden Museum
With an area of 6.5 hectares, China Garden Museum is one of the highlights in Beijing International Garden Expo. It is the first Garden Museum which combines a variety of scientific and technological means, and will be China's first national Garden Museum.

Architectures in the museum are an admixture of traditional Chinese garden, modem architecture elements in harmony with the surrounding environment. In addition, the museum has outdoor exhibition park to show some representative and exquisite traditional Chinese gardens of different areas and different times.
2. The Main Exhibition Hall
With an area of 3.2 hectares, the Main Exhibition Hall has a construction area of 50,000 square meters. As the main architectures in the Garden Expo Core, the hall display all kinds of garden works including strange stones, ikebana, bonsais, and new garden technologies, materials, results. It is the main place for communication, research conferences and news center during the China International Garden Expo.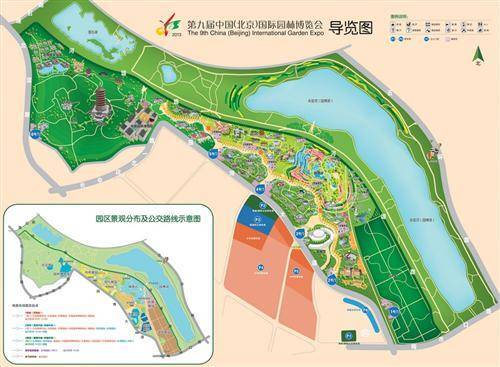 In order to carry out a green carbon policy, it adopts a lot of environmental technologies. Based on Beijing's city flower-Chinese rose, the exhibition hall stands for the headstream of life in the International Garden Expo.
3. Yongding Tower
Located at Hawk Hill, Yongding Tower will be Yongding River Historic and Cultural Museum. With a height of 69.7 meters, the tower is the highest antique ethnic style tower in Beijing. With two sightseeing elevators, Yongding Tower is a key attraction to have a bird view of China International Garden Expo. With 9 stories, Yongding Tower is an eight-horn wood tower with a Liaojin architecture style in the Song Dynasty.
4 Day Classical Beijing Tour is from 419 USD per person. 5 Day Beijing Delight Tour is from 399 USD per person. 5 Day Beijing Hutong Culture Tour is from 499 USD per person.
If you want to visit the 9th China International Garden Expo in Beijing, China Travel can tailor-make a tour including the 9th China International Garden Expo in Beijing , which can save your time, money, and trouble. Please feel free to tell us your tour ideas!
Related Links:
Solo Adventure Tips:
Location:

15 Shooting Range Road, Fengtai District, Beijing (北京市丰台区射击场路15号)
How to Get There?

Travelers can take Metro Line 14, and get off at Garden Expo (Yuboyuan in Pinyin) Stop. Besides, there will be a lot of buses to reach the Garden Expo Garden.
Ticket Price:

Pre-sale ticket for Beijing Garden Expo is 90 CNY per person. It is 100 CNY on usual days and 150 CNY on appointed days during the Garden Expo Meeting. The Expo also offers night tickets in the evening.
Opening Hours:

08:00 to 21:30 from Monday to Friday
More Tips:

Information Tel: 010-83375211
Official website: http://www.expo2013.net/
Information accuracy:
We try to make the information on China Travel accurate when we write/edit it. If you find any outdated information, please inform us.