Yanqi Lake lies at the foot of Yan Mountain in the Huairou District, about 60 kilometers north of Central Beijing. Yanqi means "goose rest" in Chinese. The lake got this name because of the migrant geese that flock to the lake for rest each spring and autumn.
Yanqi is in fact a manmade lake known for its vast water surface and beautiful natural scenery. To the north of the lake, the Great Wall winds on the undulating peaks; to the south, one sees the broad Huangbei Plain; to the lake's west is the imposing Hongluo Mountain; and to the east are the flame-like maple trees of Jingdeng Mountain.The gorgeous mountains that enclose the lake on 3 directions, the evergreen cypress and pine trees on the banks, and the tranquil waters combine to make Yanqi Lake a wonderful holiday resort in suburban Beijing. Many top nationals and leaders, and foreign ambassadors come here for leisure.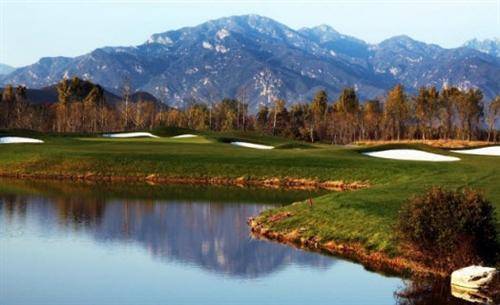 Measuring 1.5 million hectares, the lake contains 4 gardens: Yanqi Garden, Aquatic Garden of Amusement, Scientific Garden, and Garden of Wild Lives. As well, there are 6 zones: camping zone, apartment zone, holiday resort zone, villa zone, fishing zone, and etc. Activities for all ages include boating, bungee jumping, rock climbing, and more.
Tips
1.When to go Spring and Autumn are the best seasons to visit. During this time, there are large celebrations and festivals such as the Spring of the Lanqi Lake Garden Party and the Chinese Mid-Autumn and National Day Garden Party. Both seasons are also great for observing and contacting migrants birds.
2.Food and beverage: Outside the gate of the scenic zones, a variety of special restaurants and bars are available for finding gourmet eats. In recent years, many locals have opened up family holiday inns and offer superior local village banquets.
3.Hotels:In the neighborhood, there are many hotels rated from 2 stars to 4 stars that cater to visitors of all budgets.
Solo Adventure Tips:
Location:

Yanqi Lake lies at the foot of the Yan Mountain, in Huairou District, about 60 kilometers north of Central Beijing.
How to Get There?

Take public bus No. 916 and 936 at Xuanwumen, Qianmen, Congwenmen, Dongshisitiao and Dongzhimen to the lake directly or take a train at the Xizhimen Railway Station to go to the lake.
Ticket Price:

25 yuan
Opening Hours:

8:00 am to 6: pm
More Tips:

Information accuracy:
We try to make the information on China Travel accurate when we write/edit it. If you find any outdated information, please inform us.