The Giant Panda Breeding Research Base is located on the mountain of Futoushan in the northern suburbs of Chengdu. The Giant Panda Museum is a uniquesite set up to showPanda related collectionsalongside scientific human achievement. It houses numerous exhibits explaining and detailing the knowledge that has been attained throughlong years of research. Presently, the approximately 300 exhibits showcaserare, fine pictures, alongside scientific charts and monographs about the Giant Panda.
The Research Base shows many practical specimens of the Giant Panda, including fossils,dissected anatomical remains, diet specimens, etc. The Museum also has many large zoology scope-enclosuresexceeding an area of 300 square meters. Theseenclosures accurately represent thepanda's natural environments in Qinling, Liangshan, Xiangling, Minshan, and Qionglai Mountain.The Museumintroduces and details theGiant Panda's evolvement history, ancient andcurrent distribution, their general situation, and the current state ofknowledge and research being done by humans. This letsvisitors understand theGiant Panda, and also shows theefforts made bythe Chinesegovernment to protect and save the beloved creature.Although the panda is endangered, the Base is proof that the Chinese community and the world are fighting to protect it and its habitat.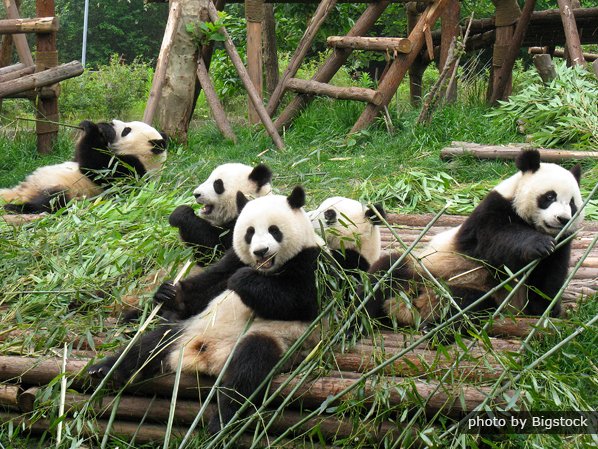 Of course, no visit to the Base would be worthwhile without seeing the pandas actually residing there! In fact , seeing giant pandas in Sichuan Province is selected as one of Top 10 Things to Do in China. Currently, the Base is home to over108 pandas, and has excellent resources for breeding and nursing. We recommendvisitors arrive in the morning between 8:30 and 10:00 am, during feeding time. Outside these hours it's likely the bears will be indulging in their favorite pastime, sleeping!
Solo Adventure Tips:
Location:

On the Futoushan Mountain in the northern suburbs of the city, 18km away from the town center.
How to Get There?

Take No. 902 sightseeing bus at the Xinnanmen Bus Station and get off at the Giant Panda Breeding and Research Base. The bus runs every 20 minutes.
Ticket Price:

1.58 yuan/person;
2.53 yuan/ person in a group (with relevant procedures);
3.29 yuan/ student in a primary or junior group with letters of introduction;
4.29 yuan/ person at the age of 60-70(with relevant certificates);
5.free tickets for people at the age of over 70, retirees, the Red Army, the disabled, soldiers in active service with valid documents and ID card.
Opening Hours:

8:00-18:oo
More Tips:

1. Taking photos with pandas will incur extra charges. The price is varied according to different pandas.
2. No smoking is allowed in the base.
3. Please keep quiet in the base, avoiding disturbing pandas.
4. Don't feed pandas food without keepers' permission, avoiding disruption of pandas' eating habits and disease spread.
Information accuracy:
We try to make the information on China Travel accurate when we write/edit it. If you find any outdated information, please inform us.