1-Day Nanxun Water Town Trip from Shanghai

1-Day Nanxun Water Town Trip from Shanghai
Summary
With a history of over 750 years, Nanxun is a soulful water town. It is the richest town in modern Chinese history. Its most special feature is that its architecture mixes Chinese and western styles.
There will be more people in the water towns during weekends and China's public holidays than during week days. If you don't have time during the week days, Nanxun is your best water town choice.
It is a big water town, so if you meet a big tour at an attraction, your guide will take you to see other attractions and avoid the crowds. When they leave, you can return to your planned route.
Highlights
Admire the water town, mixing Chinese and western styles, which is special from other water towns
See the traditional residences of rich people and plain folks
Take a boat ride along the canal
Get to know Nanxun's culture and history in-depth
Less commercialized and touristy than other water towns
A driver with over 5 years of experience and an English-speaking guide with excellent knowledge of water towns serve you on your tour day
What You Can Expect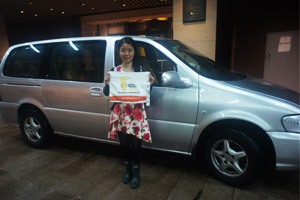 The night before your tour date: The exact pickup time will be confirmed
Your guide will call you between 7:00 and 8:00 PM the night before your tour to confirm the exact pickup time based on your request. If you don't answer your phone, your guide will leave you a message at the front desk.
If you don't receive a call after 8 pm or a message, please call our Shanghai Office on 13910694045. We will solve your problem.
Your car is an air-conditioned 7-seater business car.
Your guide, fluent in English, knows water town culture very well.
Your driver, having worked for over 5 years, is experienced.
8:30-11:00 Transfer from Shanghai to Nanxun Water Town
Your guide will wait for you at your hotel lobby at the appointed time. Your private party will then be transferred directly to Nanxun. It takes about 2 hours on the road. Our guide will introduce you to the highlights of the trip and to Nanxun. You can ask any questions about the tour.
11:00-12:30 Get to know the culture and history of Nanxun and take a boat
There are about 10 small attractions and some of them are little museums in the town. So we just take you to see the higlights and avoid museums.
In the morning, visit the Little Lotus Garden, Former Residence of the Liu's in Spanish Style (Red Houses) and the Former Residence of Zhang Shiming. You will have a chance to go through different buildings of Chinese and western style.
When you enter, the Nanxun Water Town, the first attraction you will visit is Little Lotus Garden, which is best visited in late July as there are a lot of lotus flowers at that time.
In a water town, visitors should always take a boat along the canal to appreciate the beauty of it. You will do it too. You will take the boat from the garden for about 20 minutes.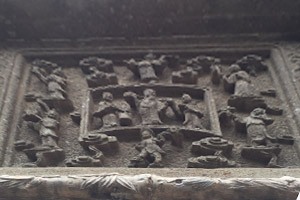 Then, you will visit Former Residence of Zhang Shiming. When seeing the fine carving everywhere, you can imagine how rich this family was. This mansion mixed traditional Nanxun style with European Renaissance style.
Later, visit the Former Residence of the Liu's, which was the residence of Liu Ti, the head of the "Four Elephants (meaning most rich people)" in Nanxun. It is called "red house" by local people because of the two western-style buildings with red bricks. It was built in 1908, so it mixed late Qing style with western style.
12:40-13:30 Lunch in a local restaurant
You can ask to try some water town food and wine. After lunch, you will visit other attractions to get a better understanding of Nanxun.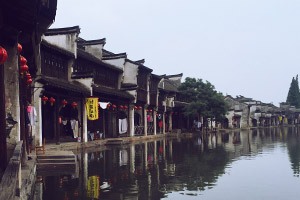 13:30-15:00 Visit One-Hundred Residential Houses
After lunch, you will take electric power cart for about 15 minutes, and arrive at One-Hundred Residential Houses.
For photographers, there are many photo opportunities. They are along both sides of the river. This is the most famous attraction in Nanxun, featured in advertisement throughout the world. The houses were built by a local rich official for his female servants. It enjoys a history of over 400 years and many locals still live there. Although it has been repaired, it has never been rebuilt.
You will walk along some bridges. Usually local older people chat on the bridge. So when you are on a bridge, have a rest and take some photos.
15:10-18:00 Transfer from Nanxun Water Town to your hotel in Shanghai
After the tour, you will be transferred back to Shanghai. There may be traffic jams, so it may take 3 hours or more to get to your hotel.
We are more than glad to help you if you need a transfer to the airport, cruise terminal or train station. Please note that you should arrive at the airport 1.5 hours ahead of departure time for domestic flights, and 2.5 hours for international flights.
Good to Know
This is a private no-shopping tour. Your guide and driver only serve you on your tour day.
You will receive a confirmation letter within 24 hours of payment.
An extra fee will be applied if you need to be transferred to or from the airport, cruise terminal or train station.
An extra fee will also be applied if your hotel is outside the middle ring road in Shanghai.
Price Inclusion and Exclusion
| 1 Person | 2 - 3 Person | 4 - 5 Person | 6 - 9 Person |
| --- | --- | --- | --- |
| $ 257 | $ 162 | $ 129 | $ 95 |
Tour Code: SHALC-98
Location: Shanghai
Duration: 8 Hours
Tour type: One Day Trips (Private Tour)