6-Day Beijing – Lhasa Train Excursion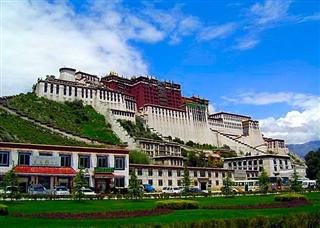 Destinations: Beijing, Lhasa
Tour Type: Private Tour
Tour Code: ct-bj-19s
Overview: Looking for a short trip that you will remember for years to come? Spend a few days in Tibet, just a short flight from throughout China! Tibet is one of the most mystical and culturally and geographically rich countries in the world, sure to yield unbelievable experiences for even the boot-weary travelers.
Day 1
Overnight train from Beijing to Lhasa (Train No. T27 departing 21:30, arriving 18:38)
Destinations & activities: We will arrange the proper transfers for you to arrive at the Beijing train station in time to take your 2 day, 1,956 kilometer (1,215 mile) train journey to Lhasa, the capital of Tibet. Your travel ticket will be sent to your hotel for your in-person pickup.
Meals: none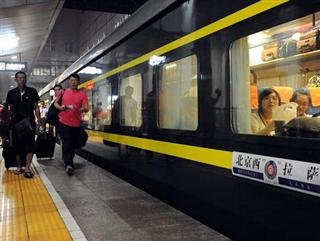 Day 2
On the Train
Destinations & activities: As you travel across the roof of the world on the Qinghai-Tibet plateau railway, be sure to enjoy the remote natural sceneries of the world's most wild expanse. You will also be able to appreciate the religious atmosphere of the Tibetan culture. This is also one of the highest railways in the world; the route through Tanggula Pass at a staggering 5,072 meters (16,640 feet) above sea level is the highest railway point on earth!
Meals: none
Day 3
Arrive at Lhasa
Destinations & activities: Lhasa Railway Station transfer
You will finally arrive to the capital of Tibet at 8:00 p.m. on the third day of your journey. Our guide will receive you at the railway station and take you to your comfortable hotel.
Be sure to get a good night's rest in order to faster acclimate to the high altitude. Also avoid strenuous physical exertion and alcoholic.
Meals: none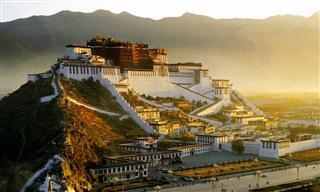 Day 4
Lhasa
Destinations & activities: Jokhang Temple, Barkhor Street, Potala Palace
- Jokhang Temple (2 hours): Potala Palace is Tibet's most previous temple, and this smaller and more manageable Jokhang Temple is a fantastic precursor to the main attraction. It is a total of 4 stories with a beautiful golden roof, still in consistent use by many locals for practicing Tibetan Buddhism. Nearby is Barkhor Street, a famous devotional avenue where pilgrims may purchase religious relics. Take special notice of the Sakyamuni Buddha statue, fronted with a number of yak butter lamps, that was brought to the temple by Princess Wen Cheng in the 7th Century.
- Barkhor Street (2 hours): This "saint's road" street is a premier destination for purchasing traditional and religious Tibetan souvenirs. Established more than 1,300 years ago, it consists of 4 large incense burners in each of the cardinal directions, a number of nobles' homes, and a popular public square. Because of the many walks of life that pass by here daily, Barkhor Street is considered by many to be "the window of Tibet." Watch the pilgrims and their prayer rituals, go shopping for colorful goods, or simply relax with a drink in a classic coffee shop or tea house.
- Potala Palace (1 hour): Potala Palace is Tibet's most notorious temple. It is a treasure trove home to countless ancient materials regarding Tibet's history, religion, culture, and arts in the form of murals, scriptures, figures, murals, antiques, jewelry, and much more. This former winter home of the Dalai Lama is vast and intricate, with a maze of corridors and stairs and dozens of rooms. As you stroll from the White Palace into the Red Palace, observe the pilgrims offering silk scarves, coins, or yak butter to the gods. The temple was declared a World Cultural Heritage Site by UNESCO in 1994.
- Steak House Restaurant:
Steak House is located just nearby Potala Palace, serving mainly Western and Tibetan cuisine. It is a great opportunity to both soak in the rich Tibetan spirit while enjoying the tastes of the local cuisine.
Meals: Breakfast; lunch at Steak House restaurant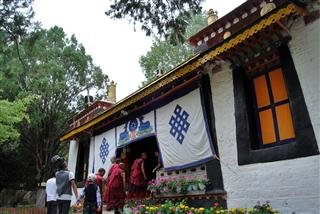 Day 5
Lhasa
Destinations & activities: Drepung Monastery, Norbulingka, Sera Monastery
- Drepung Monastery (3.5 hours): Before the reconstruction of Potala Palace, Drepung Monastery served as the home of Dalai Lama. Built in 1416, it is considered one of the largest monasteries of the 6 principle monasteries of the Gelu Sect in Tibet. The main structures include the Main Assembly Hall, 4 Tantric colleges, and Ganden Palace. The monastery is located right under Mount Gambo Utse and surrounded by many more, making it as stunning for the eyes as it is for the soul. The best time to visit is in early August in time for the grand Shonton Festival is held here every year.
- Norbulingka (2.5 hours): The Summer Palace of Tibet for the Dalai Lama is a most gorgeous garden encompassing more than 46 acres (360,000 square meters) and 370 rooms. Once used in the 1800's for political affairs, people now come from far and wide to Norbulingka to praise Buddha and admire the Tibetan-style architecture.
- Sera Monastery (3 hours): Sera Monastery was built in 1419 and is one of the 6 main monasteries of the Gelugpa sect of Tibetan Buddhism and one of the 3 main monasteries in all of Lhasa. In 1951, the complex was destroyed after Tibet achieved independence, but has since been restored thanks to the Chinese and Tibetan government's contributions. On its grounds are 4 structures: the Great Assembly Hall and three colleges. It is at Sera Monastery that the monks' "famous daily debates" take place (every day except Mondays) at 3:00 p.m. There are talks about Buddhist doctrines, learning sutras and scriptures and more. The debates are open to the public but is advised to keep silent.
- Lhasa Kitchen:
This fantastic restaurant can be found close to Jokhang Temple. Expert local chefs cook up Tibetan style meals fused with flavors from Nepal, China, and even Italy. Treat your taste buds to a holiday!
Meals: Breakfast; lunch at Lhasa Kitchen
Day 6
Flight Lhasa to Beijing
Destinations & activities: Hotel to airport transfer (Lhasa Gonggar Airport)
You will be transferred from your Lhasa hotel to the city's international airport in time for your flight back to Beijing.
Meals: Breakfast
Hotels and Accommodation
Dates and Prices
Terms & Conditions
Price Inclusion
Entrance fees.
Meals listed in the itinerary.
Private transfers.
Private English-speaking guide and driver.
Hotels listed in the itinerary.
Service Charge & Taxes.
China Life Tourist Accident/Casualty Insurance.
Luggage Transfers.
Price Exclusion
International Airfare or Train Tickets to enter or leave China.
China Entry Visa Fees.
Excess Baggage Charges.
Personal Expenses.
Any meals that are not mentioned in the tour itinerary.
Single Room Supplement.
Special Terms
Price may change during some Chinese festivals.
Price is subject to change based on exchange rate.
We accept both on-line payment (by Paypal® and Moneybookers®) and wire transfer.
A deposit of 10% ot the total cost is required when you confirm your booking.
For Cancellation Refunds, please click here.
You may also like these tours
Not Satisfied with this tour? Why not make your own tour?
From USD
$ 1,299 Per Person
Private Tour
With Private Guide + Driver
Travel Confidently with Us
10,000 Satisfied Customers
50 Years in China Travel Industry
Quick Response within 24 hours
Secured Online Payment
Group Tours with Solo Adventure
No Hidden Fees and No Traps