It is mainly distributed in Ninming, Longzhou, Chongzuo and such areas in the Guixi Zuo River valley. Now it keeps about 60 places of cliff frescoes including 3000 figures extending several miles, of which Ninming Huashan Frescoes is the largest one. They are all called Huashan Frescoes or Huashan Fresco Gallery. Huashan stands loftily and firmly with luxuriant trees and inclined cliff which is like a giant rock mansion. You can vaguely see the figures when your boat is about one hundred meters to the cliff. When you land and ascend from the ladder, you will see the large-sized frescoes clearly. The lowest part of the frescoes is 15 meters above the river and its highest part is about 110meters. It is 150 meters across left and right. There are 1.800 red naked portraits and some animal appliances densely and numerously marked on the uneven giant cliff. The majority is portraits whose arms are half-raised and legs are semi-crouched. The largest one is about 3 meters and the smallest one is 30 centimeters. The general size is about one meter. Most frescoes are a group of small-sized figures surrounding the large-sized one dancing or praying. Parts of them wear swords round their waists; some ride animal which looks like neither a horse nor a dog. The figures are surrounded by the monolayer, or the double-decked circle or the rice glyph circle; some circles resemble the sun or the moon. They are mysterious. The important historical value and tremendous artistic value have attracted the attention of the state. Since the founding of our People's Republic, it has always attracted many learned organizations to explore and study here. It is tentatively reported that Huashan Frescoes were formed from ancient times to Middle Ages, or between Warring State period and the Eastern Han Dynasty, or in the Tang Dynasty or in Song Dynasty. And the accurate forming time is still a Chinese puzzle. The Contents of frescoes are language signs or celebration on happy events or the prayer for fighting against floods, or war pageants, or religion fates. Each scholar sticks to his argument and they could not settle the problem. Therefore, it is still an open question now. The Frescoes themselves is a rare art-treasure in the world with big artistic charm and tremendous archeological value, let alone its content. Huashan Frescoes, being one of Chinese national treasures, is the key national preservation of cultural relics. Those who have been to Huashan are not only lavish with their praise for its spectacular scenery but also full of wonders at the picturesque scenery, for example, how can they paint on the steep cliffs? Its magical charm and Chinese puzzle have attracted many tourists from America, Japan, England, Germany, French, and Hong Kong-Macao and so on.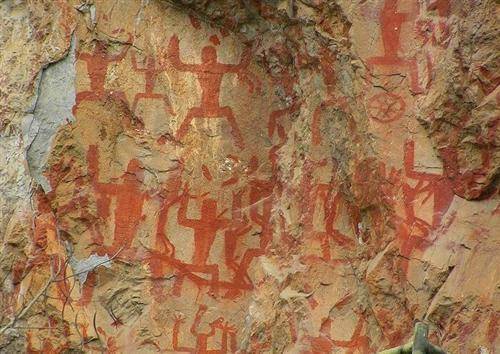 Huashan mountain frescos
Solo Adventure Tips:
Location:

How to Get There?
It takes you about one Yuan and 20 minutes by tricycle to Tuolong from Nanning County. Then you can go to Huashan Frescoes by powerboat in Tuolong Bridgehead. The initial price of the personal ship is 80 Yuan to make a round trip, but you may bargain to about 50-60 Yuan. Along the river, you can arrive there for about 2 hours. The price to charter a ship is about 300 Yuan (15 persons per ship), 500 Yuan (20persons per ship), and 600Yuan (30 persons per ship).
Ticket Price:

Opening Hours:

More Tips:
(1)You can go to Huashan cliff and Huashan National Castle by boat. It takes you about three hours to make a round trip from Ninming County to Huashan. (2)The best way to watch frescoes is in the boat because the frescoes are on the100- meter mountain side. You'd better not travel during the dry seasons while the best choice is from March to October. (3)Tuolong bridgehead is the only place to offer boats to Huashan wharf. There are three kinds of boats: the first type of boat is provided by tourist company and the rent is 1000Yuan/ship according to the standard of 25Yuan/person; the second type is private boat which can carry more than ten persons and the price in off-season is 50 Yuan/boat; the third type is public boat which is available to tourists except on the first, fifth, and tenth in a month. Early in the morning, you can come from nearby villages of Huashan with horns, land son Tuolong at about 8:00am and jogtrot back at 1:00pm. If you take the boat you can inquiry many information and live in the farmers' home. (4)If you go to Huashan by boat, you should prepare some food; if you go there by land, you can only get to Huashan Castle and then take a tricycle here, it will cost you half an hour and 30 Yuan to get there. If you go there by boat, it will cost also 50Yuan.
Information accuracy:
We try to make the information on China Travel accurate when we write/edit it. If you find any outdated information, please inform us.