The villagers who are benefit from high-quality mountain spring are good-looking and long-lived. You can easily find persons over 80 years old. It is a flat and open area where houses are in order; crops are best in quality and largest in quantity and people live a good life here. So its customs are well-preserved, and its folkways and language have the figure of Zhuang and Tai Nationalities. The people are good at embroidering and singing antiphonic songs. Most of their clothes are kaftans which share the style of Zhuang Nationality, and some short shirts can not cover their bellybuttons. It is said that the ancestors of this village came from Tai compact community. For thousands of years, they mingled with local people of Zhuang Nationality by intermarriage, so they have the characters of the two nationalities; and the county is also called Small Xishuang Barman. Men and Women in Banchi Village always play lyre to express their happiness and sorrows since a long time ago. The lyre has two stings with lively and light rhythm. It can be played solo or instrumental ensemble or played with songs and dances. It is introduced by experts that the lyre is just owned in Longzhou County, Guangxi province, and has been passed on for 1200 years. The lyre is one of the ancient musical instruments discovered ago, and is also one of the oldest instruments of Zhuang Nationality. Malei visits Horizon is one of Zhuang Nationality folklores, the heroine Malei looks for the sun by playing lyre who brought brightness and happiness to the people of Zhuang Nationality. The foot bell of singers is also a kind of musical instrument which is sole possessed by Zhuang nationality, accompanying other instruments. it sounds sweet, bright and rhythmical.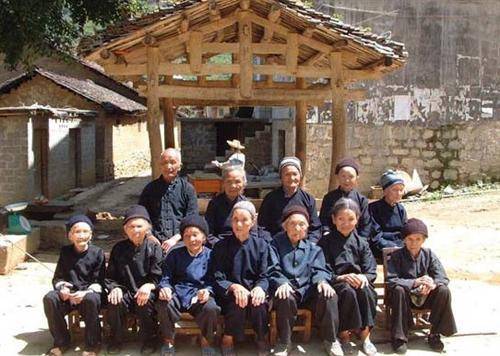 Aged People in Longevity village
Information accuracy:
We try to make the information on China Travel accurate when we write/edit it. If you find any outdated information, please inform us.