Mingshi Scenic Resort, the first class national spot with 20 kilometers surrounded areas by forest-clad mountains and limpid streams, usually has the name of the small Guilin. Here, green bamboo circles the shore; the farmhouse embellishes; single-plank Bridge is horizontal; the rice ears waver to the wind; the farmer hoes in the field; the shepherd boys play in water; the scenery is bright and beautiful, which form a picture extremely like southern countryside of China. You will enjoy the beautiful mountain peaks, the bright mirror-like creek, and the disappearing small boat in the horizon, lush bamboos, the green and glossy rice paddy, the full local flavored waterwheel, the canal and the single-plank bridge here. When you go boating in the river, you will appreciate the bamboo clumps, the mountain peaks, and the blue sky, the white cloud with their inverted image in the water, which are relined by such a rural picture. That is, the small bridge is over the flowing stream; hundred birds are singing; the cocks are crowing and the dogs are barking in rural cottages. It is really a fascinating rurality which is rare in the world.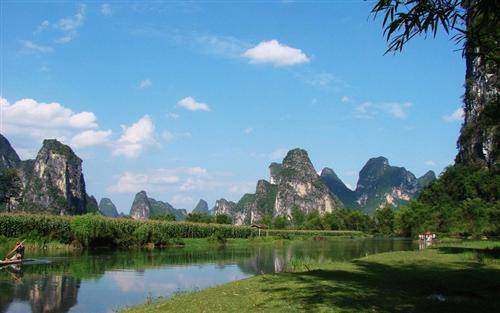 Mingshi Scenic Resort
Solo Adventure Tips:
Location:

How to Get There?
You can go to Shuolong by bus.
Ticket Price:

Opening Hours:

More Tips:

Information accuracy:
We try to make the information on China Travel accurate when we write/edit it. If you find any outdated information, please inform us.