PingXiang Friendship Pass is the top of three passes (Ping'er Pass, Shuikou Pass, and Friendship Pass). It was named the second pass in the world for its imposing building and dangerous terrain, and it is also one of our national famous eight Passes. It was an important military fortification during past ages. In 1885, famous General Feng Zicai in Qing Dynasty handed out the French invaders and won the famous Battle of Zhennan Pass in the world. In 1907, Sun Yatsen and Huang Xing led the Battle of Zhennan Pass which will last forever. Up to now, they still keep the Sino-French Battlefield, Mass Burial Ground in Qing Dynasty and such war sites. In the 50s, Premier Zhou approved to change its name to Xienan Pass. Later, in order to show the brother-ship between China and Vietnam, it was renamed Friendship Pass. Zhennan Pass, located in the place where two mountains are face-off on the Sino-Vietnam frontier, is the main Sino-Vietnam traffic artery. Zhennan Pass was firstly built during the reign of the Ming Emperor Hongwu (1368-1398) with Zhaozhong Platform. Pass building with one floor and double doors and passages was built during the 3rd year (1725) of the reign of the Qing Emperor Yongzheng. Outside there is a stale: "Southern Frontier Key Pass"; inside is a stale: "Zhengnan Pass" which was destroyed in the war against Japan from 1937 to 1945. When Su Yuanchun supervised the pass, he rebuilt the two-floor pass building. Later, founded Emperor Temple and Zhaozhong Hall (praised devoted officer temple).Taiping perfect Ganru rebuilt the pass building during Guangxu years, and pulled down Emperor Temple and Zhaozhong Hall and built a French style building named French Building in stead of them. Pass building was destroyed during Anti-Japanese war just left the arch of bottom floor. Now the pass building has graceful bearing with the broad square in front and tall and straight kapok and evergreen pine and cypress on both sides. In front of the square, there is millennium ancient banyan which has the umbrella-type crown. The green dancing leaves is just like telling the glorious and ancient history of Friendship Pass.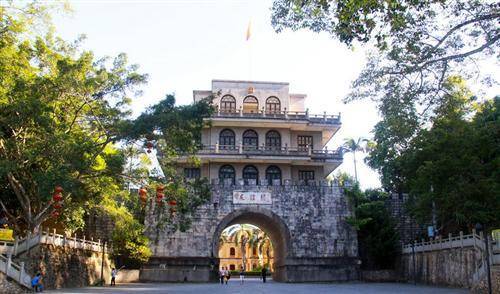 Friendship Pass
Solo Adventure Tips:
Location:

How to Get There?
Package of local minibus will cost 60 Yuan and 40 minutes for about six or seven persons. There is no car direct to Friendship Pass but you can take a shortcut by van. The price of taxi is about 20 Yuan to 30Yuan.
Ticket Price:

Opening Hours:

More Tips:
(1) It is better to travel in spring、 fall、the past winter for the sunlight is not very intense and it is comfortable but not in summer because it is too hot. (2) The cheapest way from Pingxiang to Friendship Pass is to pack up the minibus to Puzai or Nonghua and reach Friendship Street Intersection which costs 1 Yuan. Here, many motorcycles to Friendship Pass costs one Yuan or two Yuan. (3) This is the Sino-Vietnamese juncture, so their customs are similar to Vietnamese. (4) Here "the Maodan" (one kind of egg) is one certainly; frequently it falls short of demand. "The acid" is also one certainly, the flavor is different from that of Nanning, but also has the wild herbs. The shredded chicken powder and bakes are your good choice. (5) The majority of tourists pass here to visit Vietnam. If you have no passport but only ID card, you can do it for travel agency. The price is 1400 Yuan for one person, 1600 Yuan for two ones and 2500Yuan for five ones. Don't trust the news on the street. For example "if you want to manage the card, please call someone ". You should choose a qualified travel agency.
Information accuracy:
We try to make the information on China Travel accurate when we write/edit it. If you find any outdated information, please inform us.