Zuojiang River leaning Tower, also named as Guilong Tower, was built on the Aotou Peak on the Shitou (stone) Island in the middle of Zuojiang Island, lying in gurgling rapids and alarming dangerous terrain. The tower was built with two floors by prefect Li Youmei in Tianqi year (1621) during Ming Dynasty. It was added 2 floors by prefect Xu Yue in the 35th year (1692) of the Qing emperor Kangxi, The bottom diameter is 5 meter, the base height is 23.184 meters and its body height is 18.28 meters. The surface assumes octagonal face. The top of tower is cast with mill which protests from rusting. There is a ring on each eave of eight faces, which sways and rings with the wind and its sound is pleasing to the ear. The tower's outlook is plain but vigorous, it stands loftily and firmly. In the south and northwest of the tower's first story both operate an arched entrance; respectively operate a window from the second story. In the tower there is a screw-style brick ladder which is anti-clockwise to the top layer. The person walks on the steps and ladders will have strong inclined feeling. According to the measurement, the gradient is 4°24′64 ″ and its inclined direction is 52 °16′ 30 ″in the southeast by west . Experts said that craftsmen deliberately tilted the tower to one side for the concern of the wind from the river and its foundation. It is the only leaning tower built by people on purpose. The whole tower is beside the hill. And it owns stable construction and harmonious appearance. Though built for 300 years, eroded by floods many times, insolated and buffeted by winds and rains, exposed to the weather, it is still towering up which fully shows that our ancient people had exquisite architectural technology. Leaning tower is rare in the world. More importantly, it is located in the current which is the wonder in the world. The tower, together with Huqiu Tower in Suzhou, Suizhong Tower in Liaoning, Songjianghuzhu Tower in Shanghai, Dangyang Tower in Hubei, Learning Tower of Pisa in Italy, Kendao Tower in Germany, Congress Building Square Tower in England, is honored the famous eight towers in the world.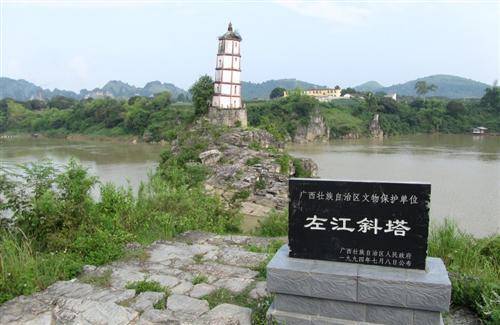 Zhuojiang Leaning Tower
Solo Adventure Tips:
Location:

How to Get There?

Ticket Price:

Opening Hours:

More Tips:
1)Zuo River is 7.5 kilometers to Stone Forest. (2) You can go sightseeing along the river by boat. The scenery is beautiful
Information accuracy:
We try to make the information on China Travel accurate when we write/edit it. If you find any outdated information, please inform us.