Zuojiang Stone Forest occupies one square kilometer with many peaks rising from the ground. The height of the highest peak is less then 40 meters and the shortest one is no more than 2 meters. Some of them are rolling into stone forest, some are standing prettily and solitarily, the scene is formed potted landscape. Range upon range of stone peaks matching different height form the beautiful shape. Small and large pools continually run through stone hills in length and breadth and cover 1500 mu (9000 acres) caves and lanes in peaks or between peaks. Some wider is just like the palace of the Dragon king which can be used to hold a meeting or have a break; some narrow one can only hold one person who can squeeze through sideways. Tour path is like a maze. If you are not careful, you will lose your way. There are many kinds of subtropical plants living on the top of peaks including 272 types of Chinese traditional medicine which can not only cure disease but also be enjoyed as views. Natural different shaped forms at the bottom of peaks look like to be created by superlative craftsmanship. Therefore it is like famous stones on Taihu Lake. There are also different scale pools scattering in the wider places which formed a beautiful picture: a small bridge is spanning a flowing stream, a winding path is leading to quiet sedusion and birds are singing and insects are crowing.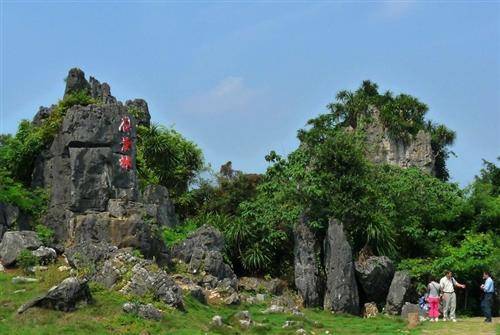 Chongzuo Stone Forest
Solo Adventure Tips:
Location:

How to Get There?

Ticket Price:

Opening Hours:

More Tips:
On 10th, April according to lunar calendar, there will hold the line of Zhuang nationality song dike. At the appointed time tens of thousands of people get together here which reveals the local character and style.
Information accuracy:
We try to make the information on China Travel accurate when we write/edit it. If you find any outdated information, please inform us.