You are at :
Home
China Travel Deals
Shangri-la Express
The Benefits
The Benefits
Benefits of traveling on the Shangri-la Express
The Shangri-La Express makes the most enjoyable use of your travel time. Travelling on a luxury train means you can relax, enjoy the desert and mountain views and even get a good nights sleep in between destinations.
Luxury: spacious mahogany-lined 2-bed suites and refurbished oak-lined 4-bed family suites for maximum comfort during the trip.
Executive-level service: Train attendants welcome each passenger boarding the train. Every carriage has 2 train attendants to provide round-the-clock service. At every stop, fresh local fruits will be delivered to your compartment.
Top chefs and quality cuisine: All chefs on the Orient Express are highly-skilled professionals and every meal features different specialties to ensure that passengers can enjoy a wide variety of China's regional dishes. Western food is also available.
The Shangri-la Express is equipped with the best shower compartments available. The shower carriage has eight shower rooms, each consisting of a dressing and make-up area on entering and a spacious shower compartment with glass door. There is a 24-hour supply of both hot and cold water (continual use of showers for an extended period necessitates replenishing of water at a station).
A "Shangri-La Express VIP certificate" is issued to each passenger as a souvenir of the trip.
Benefits of the Off-Train Excursion Component
Conveniently located five-star hotels (or best selected hotels for small cities) are used for the whole journey.
Selected local gourmet cuisine in the best local restaurants and hotels, with evening performances in Xi'an and Turpan.
Excursion Transport: air-conditioned 45-seat tour coaches.
Attraction arrangements: Highly-trained and knowledgeable China Highlights guides will introduce world-class sights and local highlights and look after you as you discover the Silk Road. An Expert from the Dunhuang Academy will give an explanation of Dunhuang culture in the bar car to help customers understand the rich culture of the ancient Silk Road.
Special Gifts: selected from Terracotta Warrior figurine, Silk Road Shangri-La Express Journey Certificate and traditional Chinese style itinerary book, cuddly Dunhuang camel toy, Jiuquan "daylight" cup and Xinjiang folk music CDs (gifts may vary).
Luxury Shangri-la Express Tours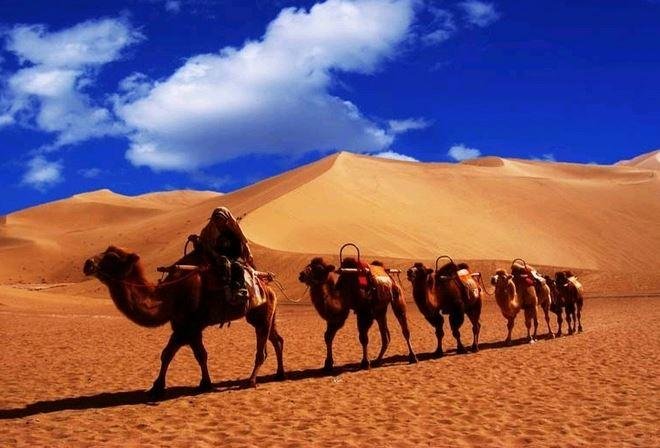 Scenery on the Road
Shangri-la Express
Summer Palace
The Terracotta Army
Jiaohe Ruin
Camel Ride
Crescent Lake