You are at :
Home
China Travel Deals
Shangri-la Express
Facilities and Services
Facilities and Services
The Shangri-La Express
The accommodation on board the Shangri-La Express offers passengers comfort with modern facilities and air conditioned cars. A wash basin facility is shared between adjoining compartments for the convenience of our guests and toilet/wash facilities are available at each end of the sleeping carriages. A separate state of the art shower car with individual compartments, each containing a shower and changing area is located centrally on the train. Towels and robes are provided. We also offer, at extra cost, an on board laundry service.
Restaurant Cars
A western breakfast is available to all guests before embarking upon the day's adventures. Our Chinese chefs offer a variety of local specialties at lunch and dinner using the finest local ingredients. Quality wines from around the world are served with both lunch and dinner, along with beer, soft drinks, tea and coffee.
Bar Car
A relaxed setting is available to meet and chat with your fellow passengers whilst watching the passing countryside. Serving an extensive array of alcoholic and non-alcoholic beverages, our bar stays open until the last person leaves.
Room Facilities
| Facilities | Twin-bed Rooms | Four-bed Rooms |
| --- | --- | --- |
| Decoration | Elegantly furnished with mahogany furniture and pure wool carpets | Recently refurbished modern style |
| Carriages No. | 1-8 | 9-10 |
| Area measurement | 10 square meters for each compartment | 10 square meters for each compartment |
| Bed type | 0.9 meters wide and 1.9 meters long | 0.9 meters wide and 1.9 meters long |
| Number of rooms | 8 compartments per carriage | 8 compartments per carriage |
| Non-smoking room | Yes | Yes |
| Washroom | Yes | No |
| Adjustable air-conditioning | Yes | Yes |
| Luggage cabinet | Yes | Yes |
| Sightseeing sofa | Yes | Yes |
| Daily Room Service | Yes | Yes |
| Free in-room fruit tray | Yes | Yes |
| Internet access | No | Yes |
| Wireless internet | Yes | No |
| Adjustable lighting | Yes | Yes |
| Adjustable music player | Yes | Yes |
Photos of the facilities on the Shangri-la Express
| | | | |
| --- | --- | --- | --- |
| | | | |
| Service | Twin-bed luxury compartments | Restaurant Cars | Bar Car |
Luxury Shangri-la Express Tours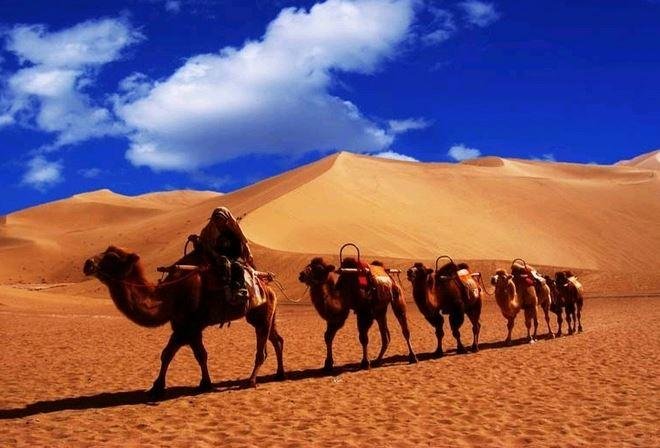 Scenery on the Road
Shangri-la Express
Summer Palace
The Terracotta Army
Jiaohe Ruin
Camel Ride
Crescent Lake