You are at :
Home
China Travel Deals
Shangri-la Express
FAQs about Shangri-la Express
FAQs about Shangri-la Express
Rooms
The number and order of carriages is subject to slight adjustment according to the number of passengers.
Voltage on the trains: The Shangri-La Express has 48 volt power in the rooms and 220 volts in the corridors. Two-pin European and three-pin British adapters are available on board.
Train Showers
Due to limitations in water storage, customers who are last to use the showers may experience lack of temperature or water pressure (except when the train is at a station when water can be continuously replenished).
Water levels are topped up at each station, so usually water is enough. If customers experience a deficiency in temperature or water pressure one of the attendants will be able to advise when the water will again be suitable for showering.
Train Toilets
While at a station toilets in Classic Twin-Bed Rooms carriages will be locked, so customers must wait until reaching a hotel to go to use a toilet.
As toilets in the Standard Rooms carriages are of suction containment design, they can be used at stations.
Tour
As the Shangri-La Express must fit in with the China Rail Authorities' schedule, in the event of an unforeseen delay, the itinerary may need to be altered slightly.
Each tour group, of about 30 people, will be given a tour escort who will accompany the group, handling all the logistics throughout the whole trip. Local guides will be arranged in each destination.
There will be some early starts, so customers should rest well when there is opportunity.
As far as possible customers will eat at hotels and restaurants as the quality of food and environment is better than can be achieved on the train.
Please understand that the best possible hotels are chosen for each location, but there are limitations to the quality available in smaller cities, i.e. Tianshui and Turpan.
Others
Tipping: It is usual to tip the attendants for extra service. As a guideline 40RMB/day would be usual for personal service, given separately to each attendant is preferable.
Clients with limited mobility: The train corridors are too narrow for wheelchairs, but one is kept on board if needed for off-train tours. Please advise upon booking if you require a wheelchair and we will do our best to accommodate the request. However, it may not be possible to go on all of the excursions, as some are not wheelchair-accessible.
Luxury Shangri-la Express Tours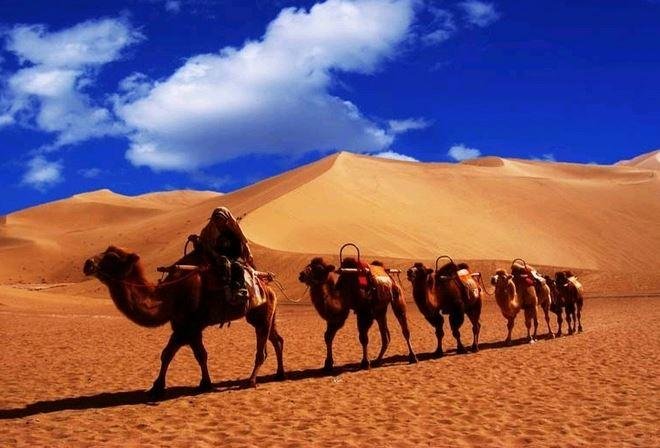 Scenery on the Road
Shangri-la Express
Summer Palace
The Terracotta Army
Jiaohe Ruin
Camel Ride
Crescent Lake