You are at :
Home
China Travel Deals
Shangri-la Express
Terms and Conditions
Terms and Conditions
Terms and Conditions for Shangri-la Express
Deposit, Full Payment and Cancellation Policy
A deposit of US$300 is required at the time of booking with us. Full payment is required within seven days of the date of booking.
The full or final payment is required 45 days before departure for the tour.
The cancellation fee will be calculated as follows:
Cancellation received up to 10 days before departure: no refund.
Cancellation received from 10 to 20 days before departure: 20% refund.
Cancellation received from 20 to 30 days before departure: 50% refund.
Cancellation received from 30 to 45 days before departure: 70% refund.
The cancellation must be submitted by post, fax, email other written communication. The cancellation by phone or orally is not acceptable.
The names of passengers traveling can be changed free of charge up to 45 days before your departure.
Travel Insurance:
Travel agent liability insurance and accident & causality in mainland China is covered in the tour cost. It is strongly recommended that all passengers take out their own travel insurance.
Passport & Visa Information:
A passport with a minimum of 6 months validity is required for all tours. A valid China visas is required. Our travel advisor is able to provide support and advice regarding visa requirements.
Minimum Passenger Requirements:
All tours require a minimum passenger number to operate. Should this not be reached we will offer a modified service to accommodate a smaller group or offer an alternative tour. If an alternative is not available a full refund will be offered.
Price Inclusion
Accommodation aboard the train
Hotel accommodation (4-5 star standard, unless otherwise stated) as per the itinerary
All meals starting with dinner on the first day, alcoholic beverages and water served with all lunches and dinners on and off the train.
Complimentary tea, coffee and mineral water.
Arrival/departure transfers.
A qualified doctor throughout the journey.
Note:
Please note charges of a personal nature including any optional excursions, drinks in the bar car, visa and excess baggage charges, insurance and laundry services are not included in the price.
Luxury Shangri-la Express Tours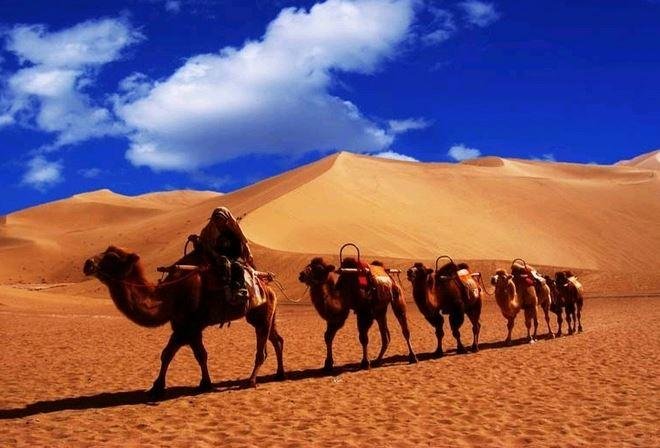 Scenery on the Road
Shangri-la Express
Summer Palace
The Terracotta Army
Jiaohe Ruin
Camel Ride
Crescent Lake