Overview
Amidst all the developments in China, as well as in the province of Guangdong, there is still one place which has carefully kept their tradition and old culture. This careful preservation is seen in the way that the place has maintained its rustic and ancient appeal. For tourists who would like to get a better picture about China's past, going to Dongguan Nanshe Village would be the perfect choice.
The Dongguan Nanshe Village is actually considered as the diamond of Dongguan. Like this precious gem, the village has been molded and polished for a very long time. Then, as the years unfold, it remains as stunning as ever.
The recognition that Dongguan Nanshe Village gets is mainly because of the conserved structures which still clearly reflect ancient architecture. Unlike in other places where modernity has completely erased all traces of heritage, the overall aesthetics of Dongguan Nanshe Village is still bursting with so much heritage.
Things To Do
Dongguan Nanshe Village is the pride of the province, and of the country, because of all the well-kept ancestral buildings and temples. There are also old houses which still stand tall these days, for everyone to admire. These structures are dated back to the ancient Ming and Qing Dynasties. Hence, it is quite impressive that these are able to last for so long.
Before even exploring the interior of some of the structures, tourists usually spend some time to walk around the village and feel the charming vibe which envelopes the place. Being in this village is having a much needed breather, especially for people who feel that they have been suffocated by the busy life in the city.
Most of the design for the façade and the overall geometry for the structures are unique only in Dongguan Nanshe Village. These can not be often seen in other places in China. Hence, this is a haven for those who are into architecture and design. It is also a blissful place for people who have the hunger to discover more about China's history.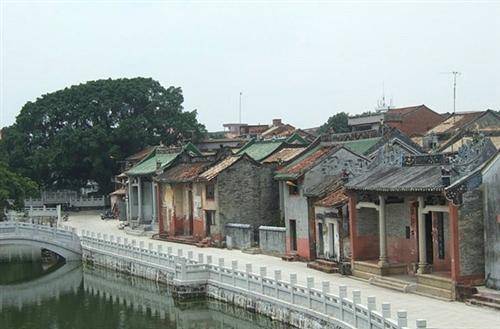 Dongguan Nanshe Village
Walking around the village makes one feel that he was able to teleport to 1,000 years ago when the old China still exists. The alleyways have narrow streets which serve as partition for the village. The structures are decorated by antique roof shingles with cascading rooftops.
In Dongguan Nanshe Village, it feels like the photos from history books have finally come to life. Since the structures were built about 300 to 800 years ago, witnessing the interesting history of China could not get even more authentic than being in Dongguan Nanshe Village.
Not all of the structures in Dongguan Nanshe Village are accessible to all guests. However, there are more than enough spots to explore when in this area. All in all, there are 100 traditional houses, 25 temples and other structures which were once used as dwelling area or small commercial establishment in the past. There is a wide variety of architectural sites like tombs, memorial archways, bridges, shops pavilions and others.
One of the structures which are often visited by tourists is the Great Ancestral Temple. This has very elaborate design which is quite impressive considering the age of the structure. It is a work of art all on its own. The pillars are intricately designed and there are various pottery carvings which can be seen all over the place.
Solo Adventure Tips:
Location:

Dongguan, Guangdong Province
How to Get There?

Public busses run from 6:30 am to 9:00 pm. To go to Dongguan Nanshe Village, take bus no. 3.

Ticket Price:

30RMB
Opening Hours:
all day
More Tips:

Asking for the services of a tour guide may be best when visiting the Dongguan Nanshe Village, especially for people who aim to dig deep into historical pieces. Spring and late fall is the best time to go too.
Information accuracy:
We try to make the information on China Travel accurate when we write/edit it. If you find any outdated information, please inform us.