China Import And Export
Last updated by chris1993 at 2016/8/1
China is a huge exporter, with almost 40% of its Gross Domestic Product coming from this billion-dollar industry. With the country's numerous residents, it's also one of top importers in the world, raking in as much as 150 billion dollars a year. The country's booming economy is spectacular, and with an uprising trend in tow, China's import and export trade statistics are expected to grow higher in the years to come.
Topics Related to Economy
Top exporter in the world
According to the CIA fact book, China is the top exporter in the world, scoring in 1.89 trillion dollars in the year 2011. China's exports are 100 billion dollars more than that of the European Union – that is several European nations combined. The United States, Germany and Japan complete the top five exporters in the world.
China's Top Exports
China exports a lot of products, and 47% of these exports belong to the category of machinery and transport equipment. Second are rubber, textile, and metallurgical products at 18%. Chemical products consist of 5% of China's exports, while food is at 3%. At the fifth spot is mineral and fuel minerals at 2%. These are just some of the many things that Chinese people export to other countries.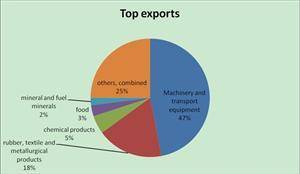 Exporting cities
With the many cities of China, the top exporting city remains to be Shenzhen, which is China's special economic zone. Its exports amount to 169 billion dollars, or almost 14% of the country's annual exports. Shanghai exports products surmounting to 144 billion dollars, while Suzhou produces 9.8 billion dollars of exports every year. Coming at fourth and fifth are Dongguan and Beijing. These top-ranking cities create China's top exports, as mentioned above.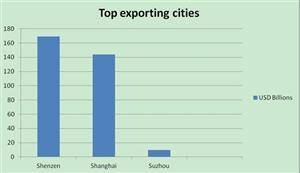 Export partners
China's exports reach a trillion every year. China's top export partner is the United States, which accounts for 17.7% of the country's exports. Despite this whopping number, China is only the third top exporter to the United States. It comes in third after the European Union and Germany.
Coming in second is China's autonomous state - Hong Kong at 13.3%. The influence of the British has resulted to the growing needs of Hong Kong Citizens. Taking the third spot is Japan at 8.1%. South Korea imports 5.2% of China's exports, while Germany takes 4.1% of the country's products. Netherlands, India, UK, Singapore and Italy are some of the other top export partners of China. The average amount of China's exports is about 1.8 trillion dollars a year.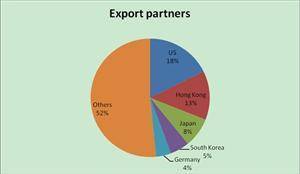 Exports to the United States
Most of China's exports go to the United States. The top export of China to US is electrical machinery and equipment. Other products include power generation equipment, toys, games and sports equipment, furniture, footwear, apparel, plastics, iron, steel, and vehicles.
Third Largest Importer
China, which imports products worth 1.74 trillion dollars every year, is the third largest importer in the world, after the United States and the European Union. Germany and Japan comes in at fourth and fifth of the biggest importers in the globe.
China's Top Iimports
Ironically, China's top import is its top export – machinery and transport equipment. At second place are non-edible raw materials at 12%. Chemical products, mineral and fuel materials, and textile, metallurgical and rubber products are all at 11% each. Other exports correspond to the remaining 12% of the country's imports.
Importing Provinces
The top three importing cities in China are Guangdong, Jiangsu, and Beijing. Guangdong imports 26.5 billion dollars' worth of products, or about 28% of the country's total imports. Jiangsu pays about 14.5 billion dollars, while Beijing gives about 14 billion dollars of payments in imports. These costs, when combined, amounts to 60% of China's payout for imports.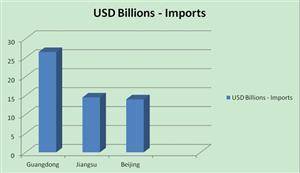 Import Partners
China has an import quantity index of 235.33%, making it the fifth highest out of 105 countries. As for importing, 13.3% of the products that enter the country come from Japan. 9.9% comes from South Korea while 7.2% comes from the United States. Germany accounts for 4.9% of China's imports. Other importers that provide China with their needed products include Australia, Malaysia, Brazil, Thailand, and Saudi Arabia.
Imports from the United States
Imports to China from the United States average 70 million annually. The top import from US is Soybeans, at 7.3 billion a year. Semi-conductors, civilian aircraft, plastic materials and industrial machines round up the top 5 imports of China from the United States. Copper, pulpwood, aluminum, steelmaking materials and organic chemicals are other things that the United States introduces to China.
Lower Import Rates
China has dramatically reduced its imports rates in order to facilitate the growing needs of its citizens. For 2012, the government has reduced its import tariffs to an average of 4.4%. Infant formula tariff was reduced to 10%, while skin care product tariffs dropped to 5%. High end products have tariff rates ranging from 10-25%, while fine wines bear as much as 65% in tariffs.
China Import and Export Fair
In its goal of improving its export and import trade, China holds the annual Import and Export Fair, also known as the Canton Fair. The fair, which started in 1957, is held twice a year at Guangzhou. As the oldest and the biggest fair in the country, it is known to provide the best turnover results. The phase 1 involves chemical products, building materials, hardware and tools, machinery, vehicles and spare parts, lighting equipment, and electronic appliances. Phase 2, on the other hand, boasts of gifts, consumer goods and home decorations. Phase 3 includes textiles and garments, shoes, office supplies, medicines, and food.
In Search of new Horizons
Because of the crisis that Europe is experiencing, Chinese merchants are thinking of ways to continue the money flow from its top exports. Despite the drop in its exports, China has found a way to make money out of the excess products they have created originally for EU or US audiences. Now, they are directing their products to developing nations. The receiving countries – such as Russia, Brazil, Peru, and Colombia – account for the 17% growth of China's exports.
Start Your Business in China
China welcomes investors worldwide and is willing to open its gates for both imports and exports. The whole country is now peaceful and orderly, under the government of the Communist Party of China. China's high-speed economic growth provides a perfect environment for business.
Almost every province and region is organized to cooperate with foreign companies. Chongqing, the main city in China's current five-year plan, is the starting point of the Yuxinou (Chongqing-Xinjiang-Europe) International Railway. Xinjiang, the main bridge between China and other countries on the ancient Silk Road, has fresh fruit, plenty of jade and other resources that attract investors.
Now is a good time to find a business partner or to build your own company in China. The Top 10 China Tours, which select not only suitable places to set up business but also places with some of the most beautiful scenery in the country, will help you come close to the real China.