China Internet
Last updated by fabiowzgogo at 2016/12/16
China, home to more than 1 billion residents, is one of the biggest Internet users in the world. As of 2011, there are 485 million internet users in the country, making it the country with the most number of web browsers in the world. The United States only comes in second with 245 million users.
Experts believe that the figure will grow to 718 million in 2013, accounting more than half of China's total population. Just like other countries, Internet is one of the most famous fads in China.
Accessing the Internet
There are four major ways of accessing internet in China. Out of 137 million survey participants, most use broadband, which is used by almost 91 million internet surfers. Second is dial-up, which corresponds to 39 million users. Leased lines are used by 27 million Chinese, while mobile phones are used by 17 million browsers.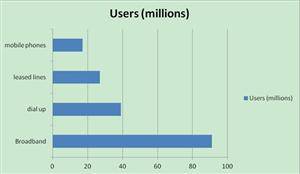 Users
More Chinese males use the Internet. About 59% of the male population uses the internet, while 41% of the users are females. In 2002, only 59.1 Chinese residents use the internet. In 2012, the number of users skyrocketed to 457.3 million.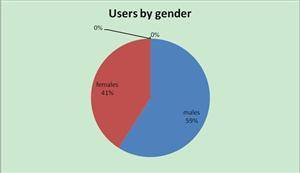 30% of the internet users come from the capital Beijing. About 29% come from the district of Shanghai. About 20% of internet users come from the Guangdong province. Another 20% comes from Zhejiang.
Age
Most of the Internet users are people aged 18-24 years old, which comprise 35% of the total population of Internet users. Next are 25-30 year old Chinese at 19.7%, and third is the youth (under 18 years old) at 17.2%. The average surfing time per week 18.3 hours, or 2.6 hours of browsing time every day.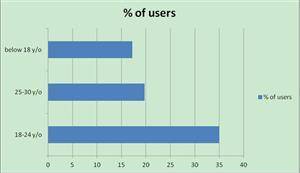 Education
Although people under 18 only comes third in the age bracket of Internet users, 31.1% of the total number of users are in the high school level. 25.8% users have attained a bachelor's degree, while 23.3% are currently pursuing their college diplomas. 17.1% of the users are younger than high school students.
Locations
76% of the Internet users access the Internet in their own homes. 33.4% use internet in the work place, while 32.3% access the World Wide Web through internet cafes. 12.6% use internet in educational institutions, while 1.1% of the users access the internet in other public areas.
Uses
Most users surf the Internet to access their electronic mails. The second purpose is to read the news, while use of search engines comes in at the third place. Obtaining information, discussing in groups, watching videos, sending instant messages, downloading music, downloading other files, playing internet games, online shopping, and online learning are some of the many other reasons why Chinese people use the internet.
Computer hosts
In a research conducted by China Internet Network Information Center, there are about 60 million computer hosts in China. 35 million hosts use broadband, while 18.2 million use dial-up. Only 5.9 million hosts use leased lines.
Domain names
There are more than 4 million domain names in China. 47.2% use the .com suffix, while 43.9 utilize the .cn domain name. 7.3% use the .net domain while 1.6% use the .org suffix.
Websites
An estimated 843,000 websites are based in China. 46.5% or more than 392,000 website use .com, while more than 367,000 websites use .cn. More than 73,000 websites, which correspond to 8.7% of the total, use .net.
Webpages
China boasts of more than 4 billion webpages. These sites make use of more than 122 trillion kilobytes. Dynamic pages amount to 2.44 trillion sites, while there are only 2.02 trillion static pages. Each website has an average of 5057 pages.
Encoding forms
Although a lot of Chinese people know how to read English, majority of the webpages (95.4%) are encoded in simplified Chinese. 4.5% of the websites are in traditional Chinese. Only 0.1% of the websites are in English.
Most popular websites
If the other countries have Google as their most visited website, China's Baidu search engine is the most popular website in the country. Next are QQ, Taobao, and Sina News. Google HK comes in fifth.
Social media
According to thesocialskinny.com, China is the most socially-engaged nation in the entire world. 84% of its internet users contribute to social media content at least once a month. 76% of these users, on the other hand, are actually inventors of social media pages and apps. At least 30% of the users visit social media websites at least once a day.
Online shopping
Every year, 7 trillion Yuan are generated because of e-commerce. About 50% of these transactions are processed through Alipay. Studies show that the figure will grow to 26.5 trillion in the year 2015.
There are 194 million registered Chinese shoppers, and most of them purchase items through Taobao, Paipai, Eachnet, Tmall, and 360 Buy. In year 2015, it's estimated that as much as 363 million Chinese people will buy their products from any of the aforementioned online stores. The top purchases are clothes, shoes, hats, and bags. Second is home appliances, while third is cosmetics.
Downloads
China is the silver medalist when it comes to IOS and Android apps downloads. First is the United States, which accounts to 57% of all downloads. At the far second is China with 12%. Taiwan is third at 4%, while the autonomous state of Hong Kong is seventh at 2%.
Online education
Despite the many educational institutions in China, many residents have opted to enroll in online education programs offered in the internet. Most students do so because of its flexibility, while some join online classes because of its inexpensive fees. Its ability to fill one's knowledge gap, and the fact that you don't have to travel to school anymore, are some of the many reasons why Chinese men enroll in online education classes.
Repulsive factors
While a lot of Chinese people love surfing the internet, there are many factors that drive users to limit their surfing times. These repulsive things include viruses, hacker's attacks, popup ads, spam, fake information, phishing, additional fees, inappropriate information and the divulging of private information.