Fujian Mazu Festival
Last updated by fabiowzgogo at 2017/1/19
Mazu, the Chinese Goddess of the Sea, is also known in different regions as Matsu, Ma-Tsu, A-ma, Tianhou, and other names, with numerous titles that include "Motherly Matriarch," "Kuan Yin of the Southern Sea," "Daughter of the Dragon," and "Empress of Heaven."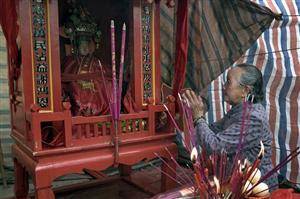 Fujian Mazu Festival
Legend has it that Lin Moniang, a Meizhou islander born in 960, devoted her life rescuing shipwreck victims. Moved by her philanthropic service, her fellow islanders consecrated her as Angel of the Sea and Holy Mother. In 987, the Temple of Goddess Mazu was built in her memory which sits on Meizhou Island in Putian in southwest China. After a millennium, there are already over 1,500 active temples and 100 million devotees dedicated to the worship of the great goddess. The virtues that reflect her teachings include always being mindful of the need for reconciliation of the opposites in our lives, recognizing the need for both the masculine and the feminine, kindness and ferocity, the balance of nature and civilization, and above all, the unity of mind, body, and spirit.
To this day, there are many Mazu believers in the world. Meizhou, in Fujian Province, was the cradle and hometown of Mazu and has, as such, become a mecca for many overseas Chinese and Taiwanese believers. More than 100,000 Taiwanese pilgrims visit Meizhou to pay homage to Mazu every year. To better carry forward Mazu culture and promote communication between those in Taiwan and mainland China, a cultural festival dedicated to the Goddess Mazu was first held on Meizhou Island in 1987 with the assistance of the Putian Government and other related units. The Festival of Mazu is now held on April 25th and Oct 4th each year.
As part of the extravagant festival, there is always a prayer service during the opening ceremony. A large-scale theatrical evening party is then put on to extol the spirit of the Goddess Mazu and the ocean culture. A favorite of many, a lantern event reflects the grand folk customs of Mazu's hometown, and a large temple fair epitomizes the essence of traditional culture, folk art and crafts, and cuisine of the areas of Putian, Quanzhou, Tianjin, Macao, and Taiwan. To further delight the eye, there is also the International Mazu Exhibition of Paintings and Calligraphy, Photography Exhibition of Mazu Cultural Relics, and a ceremony celebrating the first issuance of the special postcard titled "Legend of Mazu." Finally, flying kites, angling, and other athletics and recreational events are enjoyed by all ages at Golden Beach of Meizhou Island.
The Festival of Mazu is a time for the gathering of visitors and pilgrims from China's mainland and Taiwan and around the world on Meizhou Island to pray for world peace and the reunification of the Chinese motherland.