Guizhou Azalea Festival
Last updated by fabiowzgogo at 2017/1/19
The Guizhou Azalea Festival is an event held in Jinpo village in Qianxi County, Guizhou, in southwest China from April 8 to 25 annually since 1993.
In the years since its inception, the festival has developed into a grand occasion with events that are annually attended by thousands of people. It brings increasingly more and more people from home and abroad to the area every year. In fact, as part of the festival, there are traditional performances from the Yi, Miao and Buyi minority nationalities, not to mention customary activities like lusheng (a classic reed instrument) playing, jangle dancing, and bullfighting. What's more, large bonfire carnivals are organized for all visitors to enjoy.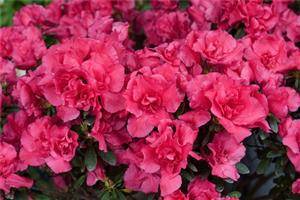 Guizhou Azalea Festival
The popular festival takes its name from the azaleas flowers that are often regarded as "the royalty of the garden." Some of the flowers' species and many thousands of named varieties can be found in different countries around the world. China boasts the largest number of azalea species and most of them grow in Guizhou, a southwestern province. A natural azalea forest spreading over 50 square kilometers can be found near the juncture of Qianxi and Dafang counties in northeast Guizhou. Within this area, over 70 varieties can be seen. The azaleas blossom around the time of the Qingming Festival, also known as the Tomb Sweeping Festival, on the 104th day after the winter solstice according to the lunar calendar (usually around April 5). This is close to the time the local Yi and Miao nationalities celebrate their traditional Chahua (camellia) Flower Festival.
During this time in Guizhou, visitors can enjoy the varied species of these graceful flowers, with shapes of the different varieties ranging from stiffly upright, to broad spreading, to irregular, to heights ranging from under a foot to well over 15 feet. There are even a few evergreen varieties (such as the Pink Cascade) that seem as if they are weeping and may be grown as a hanging basket. Besides, many varieties are dense and compact, while others are quite open, and some are almost tree-like. It can be difficult to accurately describe and depict the colors of azalea flowers for they are rich in hues but only by variety, but also between flowers on the same tree. Still, enthusiastic naturalists, artists, photographers, needlework fans, and explorers will all find satisfaction in the stunning azalea blooming season.