Hainan International Coconut Festival
Last updated by fabiowzgogo at 2017/1/20
Ever since ancient times, Hainan has been known as "Coconut Island." The coconut is a unique plant for Hainan, and it plays an important role in its people's lives. With its highly nutritional value, coconuts can be eaten fresh, or used to make coconut paste, milk, sweet, and oil. Various kinds of sculptures and handicrafts are traditionally made from the hard coconut shell. The plant's palms are planted all across the island both as commercial and ornamental trees, around villages, along roads, in cities, and of course on large plantations.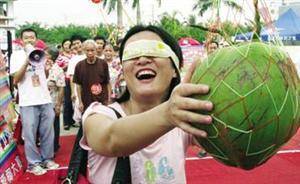 Hainan International Coconut Festival
The first annual Hainan International Coconut Festival Hainan International Coconut Festival was held April 3 to 7, 1992. The goal of the festival is to develop the tourism industry, promote cultural exchange, encourage trade, and further the opening up of China. The event attracts hoards of both domestic and international visitors and businessmen thanks to the vibrant and energetic celebrations of Hainan folk customs and culture. Indeed, the festival fulfils the organizers' aim to "let the world know of Hainan and let Hainan go gradually into the world."
In the years after the first festival, the coconut festival has been held annually and has become an influential celebration in Hainan. It is now a combination and showcase of touring, sightseeing, culture, traditions, physical sports, and trade. Besides the trade fair, the Hainan Collectors' Excellent Works Exhibition also attracts many professionals and amateurs across many industries. Coins, stamps, telephone cards, china and ceramics, and butterfly specimens can all be seen on display. During this time, restaurants in the town of Haikou on Hainan island enthusiastically promote the local culinary delicacies. Visitors can also sample a baffling variety of Cantonese, Beijing, and Sichuan dishes.
Another important event in Hainan is the March 3rd Festival of the Li and Miao Nationalities held in Dongfang city. A Li and Miao costume show draws the attention of visitors and local people alike, the largest show of its kind in 20 years. The festival culminates in the evening with a needfire show and a folk song performance by members of the 2 nationalities.