International Folk Song Festival
Last updated by fabiowzgogo at 2017/1/19
Origins of the festival
Guangxi is one of 3 ethnic autonomous regions in China and the heartland to China's largest minority group, the Zhuang, which has more than 13 million peoples. To many of the varied ethnic groups in Guangxi, singing has been a traditional way of life for centuries, with their singing traditions traceable as far back as the Tang Dynasty (618-907). Almost every group—the Zhuang, Miao, Yao, Hui, Dong, Mulao, and Maonan—holds an annual song festival to celebrate this vibrant aspect of their culture. One of the largest traditional festivals is that of the Zhuang minority group which falls on the 3rd day of the 3rd month of the lunar calendar. On that day, all the ethnic groups join together on mountainsides or riverbanks making for happy reunions. The songs they sing are related to the lives and concerns of the common people. Attendees make friends by singing and expressing their hopes and passions for a joyous and prosperous life. In order to maintain the old traditions and to promote mutual understanding of the ethnic groups, the Guangxi People's Government has held the annual International Folk Song Festival since 1993, serving as a cultural bridge for nationalities in Guangxi. 、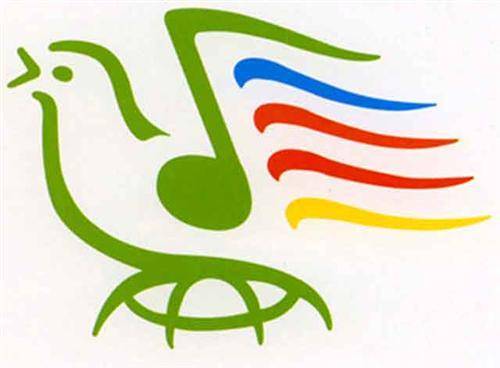 Logo of Nanning International Folk Song Festival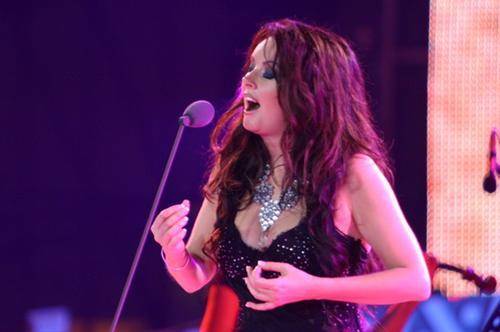 Sarah Brightman in Nanning International Folk Song Festival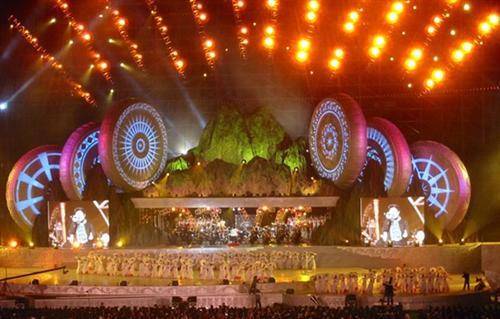 The opening ceremony
In 1999, approved by the Ministry of Culture of China and the Guangxi People's Government, the Guangxi International Folk Song Festival was officially renamed the Nanning International Folk Song Festival (NIFSF), which is jointly sponsored by the country's related units. Since then, during the height of every golden autumn, friends and guests from all over the world fly on the wings of songs across oceans and continents to the beautiful green city of Nanning to participate in the grand annual global folk song gathering. The autumn season in Nanning is the most beautiful and moving season, setting the perfect stage for such a treasured festival. Talented entertainers and locals perform on the same stage, exchange views and skills, and mutually collaborate on merry songs that flow with ethnic, contemporary, and global influences.
Since 2004, NIFSF has been held during the same time as the China-ASEAN Exposition also in Nanning and which promotes trade.
Events
The Nanning International Folk Song Festival is mainly composed of events focused on culture, business, economic trade, and tourism. The main events include the Opening Evening Ceremony, the Ocean of Songs, various cultural activities, special performances, a folk song competition, and the International Seminar on Festival Culture and City Economic Development.
Development
Folk singers and performers from outside Guangxi as well as other countries are all graciously invited to the Nanning International Folk Song Festival. All of them have inherited a rich catalog of traditional tunes and styles from their ancestors. Singers share their own folk songs as well as breathe new life into contemporary works. Some pop-folk songs are made by giving the songs a modern twist and they are quite popular on the streets.