Jiayuguan International Gliding Festival
Last updated by fabiowzgogo at 2017/1/19
Originated in 1992, Jiayuguan Pass International Gilding Festival is usually held in July in the gliding base of Jiayuguan in Gansu Province, which is sponsored by General Administration of Sport of China, the people's government of Gansu Province and Aero Sports Federation of China. Jiayuguan gliding base is a comprehensive gliding-based aviation club. During the festival, there are various competitions, activities and performances, including fighter plane formation flying, ultra light airplane flying, fire balloon flying, trainer aircraft flying, glider flying, base jumping, trick parachuting, delta wing parachuting, setting records flying, aerobatics and nationwide large-scale aviation sports meet.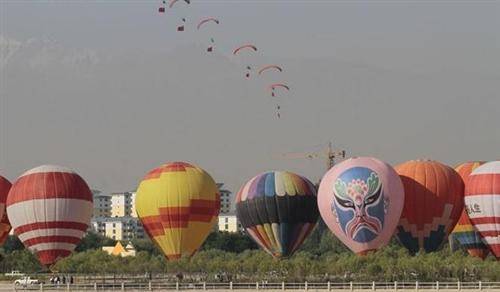 Jiayuguan Pass International Gilding Festival
Gliding is a popular and fiercely competitive sports event in the world. There is gliding world championship that is held every 2 years and also various gliding competitions held at home and abroad. Jiayuguan is located in the central region of Hexi Corridor, centered on the air base. Due to the wide and flat terrain, Jiayuguan is a favorable venue for gliding of long distance and setting records. As there are flat crop farmlands around, it's suitable for gilders' forced landing. The superior local conditions including the topflight gliding instruments and superexcellent air flow condition are highly commended by gliding athletes and coaches around the world, attracting an increasing number of gilding athletes from home and abroad. Jiayuguan is the national gliding base that is recommended to the world organization by the National Sports Commission.