Kaifeng Chrysanthemum Fair
Last updated by fabiowzgogo at 2016/12/21
It's known that chrysanthemum is the city flower of Kaifeng City. Kaifeng Chrysanthemum Fair, which began in the year 1983, is held from October 18 to November 18 in Kaifeng City every year. Until 2012, Kaifeng Chrysanthemum Fair has been successfully held for 29 sessions. During the fair, the ancient Kaifeng City is decorated with 3,000,000 pots of chrysanthemums which contain 1,300 varieties and many rare and precious varieties, forming a grand sight. The air is also full of the fragrance of chrysanthemums. In the year 2000, Kaifeng Chrysanthemum Fair was classified as the provincial-level fair by Henan provincial Party committee and provincial government.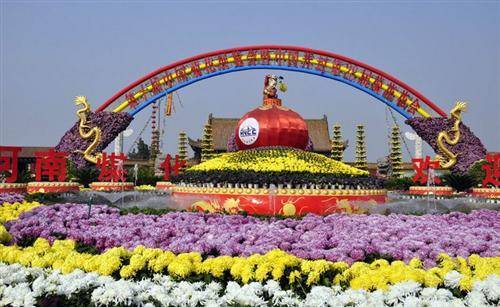 Kaifeng Chrysanthemum Fair
Kaifeng City boasts thousands of species of chrysanthemums. In Kaifeng, there are precious species of ancient times and the new species that are carefully nurtured. Kaifeng chrysanthemums integrate traditional style and modern artistry, which forms its unique and distinctive features. For instance, due to the advanced grafting, there is a huge chrysanthemums group with the height of 61.5 meters, the diameter of 4.16 meters and 6,432 chrysanthemum blossoms in full bloom simultaneously, which are just like twinkling stars. It's called "chrysanthemum tree" by foreigners.
The main fair venue is Longting Park that consists of 8 major exhibition areas, 2 exhibition rooms and 16 scenic spots, with 100,000 pots of chrysanthemums on exhibition. The 10 branch fair venues mainly include Tieta Park, Bianjing Park, Yuwangtai Park, Qingming Riverside Landscape Garden, Daxiangguo Temple, Memorial Temple of Lord Bao, Hanyuan Forest of Steles, Shanshan'gan Guild Hall and Yanqing Taoist Temple.
With years of considerable development, China Kaifeng Chrysanthemum Fair has become a unique and characteristic brand among all the tourism resources in Kaifeng and even Henan Province. At the national exhibition and competition of chrysanthemum varieties, Kaifeng chrysanthemum has been crowned. In 1999, at the chrysanthemum special competition of world horticultural exposition held in Kunming, Kaifeng chrysanthemum was crowned and gained great success. These years, during the chrysanthemum fair, besides the chrysanthemum exhibition, there are a variety of cultural activities, such as artist programs, folk-custom performances, painting and calligraphy meeting, photographic exhibition, cultural book fair, attracting an increasing number of visitors.
Origin of Kaifeng Chrysanthemum Fair
The cultivating and appreciating chrysanthemums enjoy a very long history in Kaifeng City. The plant of chrysanthemum in Kaifeng can date back to over 1,600 years ago. In the Tang Dynasty, Kaifeng chrysanthemum activity began to take shape. In the Northern Song Dynasty, Kaifeng chrysanthemum enjoyed widespread renown. During the Double Ninth Festival at that time, flower fairs and chrysanthemum competitions were held by common people and chrysanthemum fairs were also held in royal court. In the Ming and Qing dynasties, cultivating and appreciating chrysanthemums was extremely popular in Kaifeng. After the founding of the Republic of China, appreciating chrysanthemums in golden autumn in Kaifeng became a custom, and a number of chrysanthemum fairs have been held by local botanical garden department. Since 1983, an annual chrysanthemum fair has been held in Kaifeng.