Xinjiang Grape Festival
Last updated by fabiowzgogo at 2017/1/19
Grape is one of the most gorgeous business cards of Turpan and even Xinjiang Uyghur Autonomous Region in northwest China. In honor of the Silk Road's openness for about 2,100 years, the grape festival has been held in Turpan from August 20 to September 5 every year since 1990. Turpan Grape Festival is one of China's forty important festive activities that are acknowledged by the State Council, which is the only one in Xinjiang. The grape festival integrates tourism, culture, economy and trade with the theme of unity, friendship, cooperation and development, aiming at publicizing and developing Turpan and Xinjiang.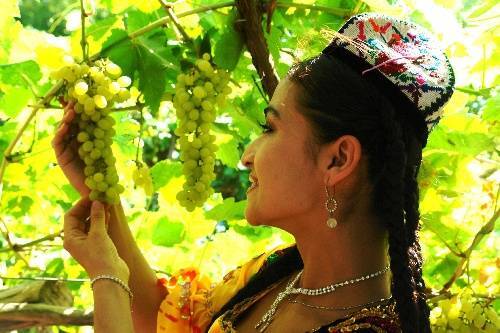 Xinjiang grape festival
Glamour of Turpan
As an important transportation junction on the ancient Silk Road, Turpan absorbs various culture types of Central Asia and Eastern Europe, which boasts an abundance of cultural relics and historic sites, peculiar folk customs of Uygur minority and the marvelous landscape of desert oasis. Thanks to these, Turpan becomes a hot attraction for travelers from home and abroad to appreciate the ancient civilization of the Western Regions and the vast desert landscape.
Exciting Activities during the Festival
During the annual Turpan Grape Festival, there are a number of interesting and exiting activities, such as having a taste of grapes, competitions of eating grapes, hundreds of people eating the huge mutton shashlik simultaneously, roast whole lamb, skill show of roast whole ox, appraising through comparison, motorcycle cross-country challenge around Ayding Lake, wine-tasting at lounge, tasting sweet fruits sitting under trees, excellent folk dances at the opening ceremony, world sand sculpture festival, topflight astonishing stones exhibition and many other new activities adding each year.
Nearby Attractions after the Festival
After the festival, if you have spare time, you can't miss some famous attractions of Turpan, such as the Mountain of Flames, Thousand-Buddha Cave, Emin Minaret, Jiaohe Ruins and Astana Tomb. If you prefer the cool and refreshing place, you are sure to visit Karez which is an irrigation system of wells connected by underground channel. Karez is one of ancient China's top 3 great projects, together with the Great Wall and the Grand Canal, with a history of over 2,000 years. You will feel cool and comfortable while walking through it.
The 21st Turpan Grape Festival in 2012
The 21st Turpan Grape Festival was held from August 26 to September 5, 2012, in Kumtag desert scenic spot of Shanshan County in the east of Xinjiang. It was the first time that the ceremony of the grape festival was held in the desert. There were a number of highlights during this festival, including treasure hunt in desert by hiking, passionate desert sports, the performance of Uygur' combing plaits, picking and tasting grapes, baking eggs in desert, a visit to Tuapan's cultural relics and the trade fair of modern agricultural products. This grape festival mainly consisted of major activities, economic cooperation activity, culture and art activity about the Silk Road and scenic sports activity. This grape festival focused on the exhibition and trade of Shanshan's top-quality grapes, melons, fruits, grape wine, stone materials, astonishing stones and jades, which mainly showed the rich culture of the Silk Road.