Yueyang International Dragon Boat Festival
Last updated by fabiowzgogo at 2017/1/19
The Yueyang International Dragon Boat Festival takes place on the 5th day of the 5th month of every lunar year. The magnificent festival is held in Yueyang city, Hunan Province, an important port city on the Yangtze River. As part of the celebrations, there is a delightful dragon boat race on the Miluo River, known to be the place where the legendary poet Qu Yuan drowned himself. In addition to the boat race, the city hosts countless events for all to enjoy such as tourism, arts performances, business promotions, and forums.
Yueyang, also known as the City of the Dragon Boat, and the Miluo River which runs through it are the cradles of dragon boat culture. The event's origin stems from a piece of Chinese history, where is it said that on the 5th day of the 5th month of the lunar calendar in 278 BC, Qu Yuan, the patriotic poet, drowned himself in the Miluo River. In order to commemorate the poet and his world-famous celebrity, Yueyang held 10 consecutive international dragon boat races in the 1980s and 1990s. Since then, the Yueyang International Dragon Boat Festival has been held every year, and these days, more than 100 teams from all over the world participate in the competitions.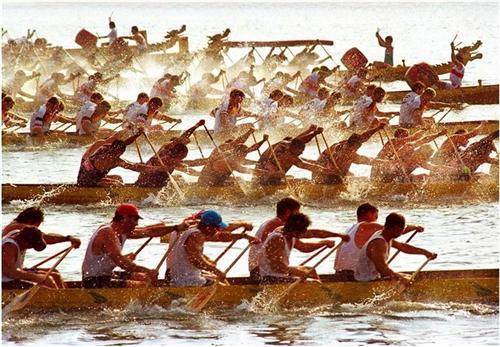 Yueyang International Dragon Boat Festival
The popularity of China's many traditional festivals has spread in some form or another throughout eastern Asia and internationally. The same honor has included the country's iconic dragon boat festivals. Actually, such festivals have been celebrated outside of China for many years, and in the USA, in places including Denver, Colorado; Los Angeles and San Francisco, California; and even in many small towns.