Wanwei Golden Beach is 15 km long and very wide, and sand is thin and golden yellow. The picturesque scenery of Golden Island is comprised of green island, long beach, blue sea, and sunshine. It is a natural seashore bathing place, a coastal tourist resort, and a scenic zone at autonomous level. After several years of development, Golden Island has begun to take a shape of a tourist resort zone where tourism infrastructure, reception facilities, and recreational facilities have become more efficient and has become another hot coastal tourist destination after Silver Beach of Beihai of Guangxi.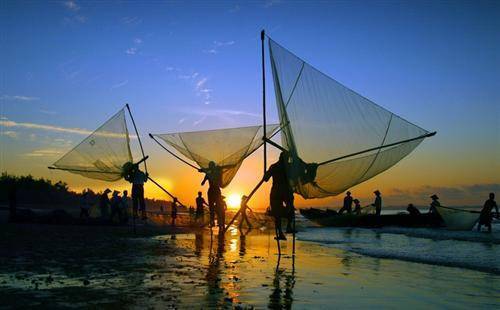 Sunset at Wanwei Golden Beach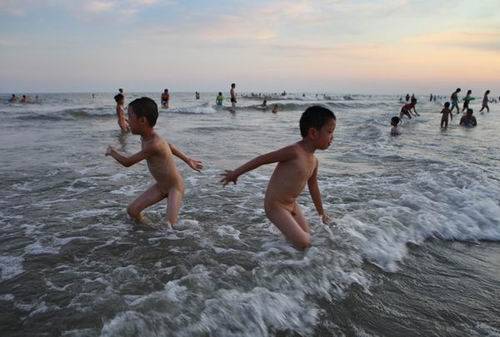 Happy Time
Solo Adventure Tips:
Location:

How to Get There?
You can take a bus to Dongxing in Fangchenggang Bus Station and then make a transfer to Wanwei Golden Beach, which only costs you 15 minutes.
Ticket Price:

Opening Hours:
Tourist season lasts as long as eight months because luxuriant grass and trees are evergreen on the island through the year.
More Tips:
You can live in Golden Beach Hotel near the scenic spot, or live in Dongxing City where there are a lot of cheap hotels adjacent to Liberation Road and the prices per day are all under 100 Yuan that is suitable for the knapsack guests to stay for the night. Special foods: in the eateries near Wanwei Golden Beach, you can eat delicious seafood porridge and fried rice noodles of the Jing nationality and buy jellyfish soup anywhere. Some tourists may not be accustomed to this soup while eating the first time and then understand the wonderful taste after sampling slowly. Special festivals: When visitors come here in summer, they can enjoy some recreational activities: Jing fisherman's song, bamboo dance, monochord performance, drawing nets and setting shrimp lights and so on.
Information accuracy:
We try to make the information on China Travel accurate when we write/edit it. If you find any outdated information, please inform us.