China Travel Testimonials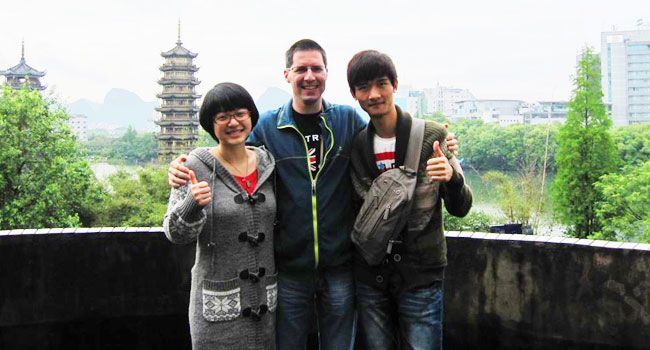 Feedback for Vanessa
Vanessa couldn′t do anything better, and I will surely use her sevice again when in China, and I will recommend her to all other travellers!
- Thomas
By Terence from Canada ; Tour Date: January 5, 2011 - January 9, 2011
"The lunch is great variety, delicous traditional food. Our guide is very nice and professional during the tour with oustanding knowledge of all the sites and history, and with a great variety of vocabulary and use. It's good on a private tour. >"
By MICHAEL from United States ; Tour Date: August 13, 2011 - August 21, 2011
"I wish to let you know of the absolutely fantastic job Ms. Zheng did for me in booking a last minute tour of Beijing. She put together a marvelous package on very short notice and, despite extremely frustrating computer access problems on my end plus a>..."
By Bret from United States ; Tour Date: August 8, 2011 - August 8, 2011
"Thank you for a wonderful trip to the Great Wall with Gary. Gary did an excellent job, with great english, was very flexible, quite informative and provided a terrific tour! I would highly recommend him to anyone traveling in China. >"
4 Days Chongqing, Yangtze, Yichang Tour
By Susan from Australia ; Tour Date: July 31, 2011 - August 3, 2011
"We really enjoyed our cruise. We upgraded to the presidential suite upon boarding. Shennon Stream was the most memorable short excursion. >"
By JOANN from United States ; Tour Date: July 29, 2011 - July 29, 2011
"Standing on The Great Wall knowing it has so much history, thousands of years old and can be seen from space. It was truly amazing and was the most memorable attraction on the itinerary. I had heard Beijing was very crowded and had lots of traffic, which is>..."
15 Days Shanghai, Suzhou, Beijing, Xian, Guilin, Yangshuo, Hong Kong Tour
By Ernesto from Italy ; Tour Date: June 15, 2011 - June 29, 2011
"We are very satisfied with the trip and the choice we made in its organization, the only regret is the rain we encountered in many places! I have and I will recommend the trip organization as your agency made. We are satisfied with the whole package also>..."
16 Days Shanghai, Chengdu, Kunming, Emeishan, Leshan, Zigong, Guiyang, Dazu, Chongqing, Zhengzhou, Luoyang, Xian, Hua Mountain, Beijing Tour
By Glen from United States ; Tour Date: June 12, 2011 - June 26, 2011
"I want to thank you for all your hard work in coordinating our trip to China for the 4 families. Overall, this was a wonderful experience for all of us. I know that it must be very hard to coordinate so many different itineraries. Also when the Tibet>..."
Testimonials by Travel Advisors
Travel Confidently with Us

10,000 Satisfied Customers

50 Years in China Travel Industry

Quick Response within 24 hours

Secured Online Payment

Group Tours with Solo Adventure

No Hidden Fees and No Traps