China Travel Testimonials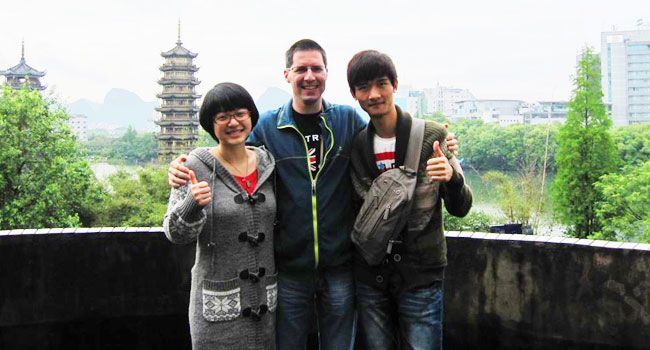 Feedback for Vanessa
Vanessa couldn′t do anything better, and I will surely use her sevice again when in China, and I will recommend her to all other travellers!
- Thomas
By Jaime ; Tour Date: May 17, 2016 - May 17, 2016
"Hello Vanessa! I had an unforgettable time in Guilin. The scenery was absolutely stunning and the tour top notch. As a solo traveler, I booked a Li River cruise day tour to Yangshuo with guide Hill, and he was wonderful! Incredibly knowledgeable, able>..."
27 Days Shanghai, Beijing, Xian, Lanzhou, Xiahe, Wuwei, Zhangye, Jiayuguan, Dunhuang, Turpan, Korla, kuqa, Hetian, Yarkent, Kashgar, Urumqi Tour
By Heinz from Switzerland ; Tour Date: April 1, 2016 - April 27, 2016
"Dear Vanessa I could say that the travel was a very enjoyable, interesting experience for me, exceeding my expectations, comparable to longer travels I made with Esther or again alone such as Pan-Americana, Australia and South Africa, but to go in more>..."
8 Days Shanghai, Suzhou, Guilin, Yangshuo, Hong Kong Tour
By Lee ; Tour Date: October 21, 2016 - October 28, 2016
"Her response to our questions was very thorough and complete. She provided spectacular Service and response time to our many questions. Vivi most likely is the reason We did not Look into any other China travel firms. Her willingness to provide and>..."
12 Days Beijing, Chengdu, Chongqing, Yichang, Yangtze, Shanghai Tour
By David from Canada ; Tour Date: April 21, 2016 - May 2, 2016
"Hi Elaine! We just got back home from our fantastic China trip! It exceeded any expectations we had. The tours, arrangements, hotels and guides were all great. I would like to pass on special thanks to a few of the standout people we met or had contact>..."
11 Days Shanghai, Yichang, Chongqing, Yangtze Tour
By Christine ; Tour Date: April 2, 2016 - April 12, 2016
"Hi Vivi, Just wanted to let you know that we have returned home to Australia after having the most wonderful China holiday! Thank you so very much to you for arranging everything so perfectly! Everything went really smoothly - with all drivers/guides>..."
6 Days Suzhou, Beijing, Xian Tour
By Roger ; Tour Date: April 11, 2016 - April 16, 2016
"Dear Leon We are back in Suzhou having greatly enjoyed our trip to Beijing and Xian. We can honestly say that it exceeded our expectations and we shall recommend your services to any friends considering visiting China. Our tour guides Jane and Robbie were>..."
By ITZHAK ; Tour Date: March 20, 2016 - March 20, 2016
"Dear VanessaThe tour is o.k.The guide Julie is excelent and she taught us many things about the life in China.By the way I am a tourism consultant and a journalist and I can recommend your tours.Very thanksfullyItzhak >"
By Margaret ; Tour Date: March 18, 2016 - March 19, 2016
"Hi Vanessa,Thank you for your email, Both Margaret and I have nothing but praise for the services of your guide Elaine Liu. She was waiting for us at the pre- arranged time, and from start to finish she gave us an extensive running commentary and was>..."
By PHILLIP ; Tour Date: March 13, 2016 - March 13, 2016
"Dear Leon, I want to drop you a note to tell you how nice our trip was with Ting on Sunday, March 13, 2016. Thank you so very much for all of your assistance. I will certainly tell all of our friends about our trip and your fine business there in>..."
Testimonials by Travel Advisors
Travel Confidently with Us

10,000 Satisfied Customers

50 Years in China Travel Industry

Quick Response within 24 hours

Secured Online Payment

Group Tours with Solo Adventure

No Hidden Fees and No Traps