China Travel Testimonials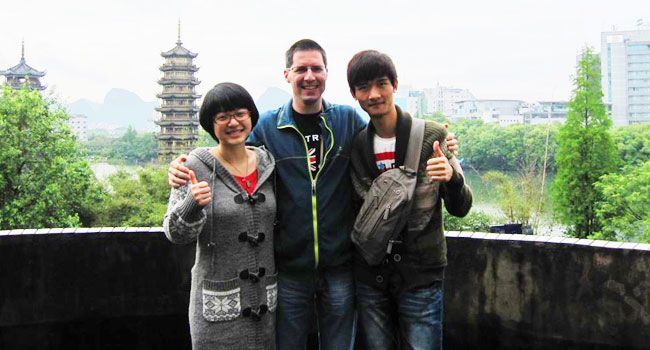 Feedback for Vanessa
Vanessa couldn′t do anything better, and I will surely use her sevice again when in China, and I will recommend her to all other travellers!
- Thomas
18 Days Shanghai, Hangzhou, Suzhou, Beijing, Xian, Kunming, Dali, Lijiang, Shangri la Tour
By Rudolf from Switzerland ; Tour Date: June 16, 2011 - July 3, 2011
"We had a wonderful tour in China.Thanks to you and your organisation. >"
By Jackie from Canada ; Tour Date: May 17, 2011 - May 17, 2011
"I booked many things on my own and I felt a bit unsure of how everything would work out, so having Ethel, Leon, Yo-Yo and Tony make contact with us regularly made us feel secure and like we had friends to call while we were in China. This made the whole>..."
8 Days of Selected Ancient & Modern China Tour A
By Margaret from Australia ; Tour Date: July 2, 2011 - July 13, 2011
"Thanks to the wonderful tour guides who were so different in style but all so great and flexible. We loved your tour and would recommend it to anyone. Loved the idea of lunches being included as we were always on the road at lunchtime anyway and having tea>..."
4 Days Beijing, Guilin, Yangshuo, Xian, Chengdu Tour
By Oscar from Mexican ; Tour Date: June 22, 2011 - June 25, 2011
"Regarding the tour I hired with the above reference number, I only want to express that Leon Long handled it in a very prompt and accurate way and that when I needed to talk with him he attended me in a very courteously and patiently. If all your employees>..."
37 Days Hong Kong, Guilin, Yangshuo, Kunming, Lijiang, Shangri la, Lhasa, Chengdu, Leshan, Emeishan, Beijing, Shanghai, Suzhou, Hangzhou Tour
By Miriam from Guatemala ; Tour Date: September 2, 2011 - October 8, 2011
"Mr. Leon Long has been helping us with our travel plans, tours, etc. and we want to let you know that he is a very valuable asset for your company. He has assisted us in a very professional and attentive way, always responding to our doubts and e-mails very>..."
11 Days Beijing, Yichang, Chongqing, Xian, Hong Kong Tour
By Melvin from Canada ; Tour Date: April 7, 2011 - April 17, 2011
"We were very satisfied with the service you provided prior to our departure. You were prompt and very efficient. The guides, Joe and Echo were very knowledgeable and patient. They made us feel welcome. The drivers were very good as well. We felt safe with>..."
9 Days Shanghai, Huangshan, Qiandaohu Lake, Hangzhou, Suzhou, Zhouzhuang Tour
By Zhen from Canada ; Tour Date: July 2, 2011 - July 10, 2011
"There are some factors made us 'Wow', there are attention to detail such as complementary waters, customizbility of tours, private boat rides, maps, cell phone. The cell phone was convenient but could not make calls overseas because the service was not>..."
35 Days Shanghai, Xiamen, Huangshan, Hangzhou, Lanzhou, Xiahe, Urumqi, Turpan, Chengdu, Guilin, Longsheng, Hong Kong, Yangshuo, Kunming, Lijiang, Shangri la, Kathmandu, Pokhara Tour
By Brent from United States ; Tour Date: June 3, 2011 - July 7, 2011
"We love Urumqi, Turpan and especially NUR! He is fabulous. His command of English is excellent. He has helped me improve both my Chinese and Uygur! The history, culture and overall feeling is really terrific. And, I cannot imagine doing this without the>..."
Testimonials by Travel Advisors
Travel Confidently with Us

10,000 Satisfied Customers

50 Years in China Travel Industry

Quick Response within 24 hours

Secured Online Payment

Group Tours with Solo Adventure

No Hidden Fees and No Traps