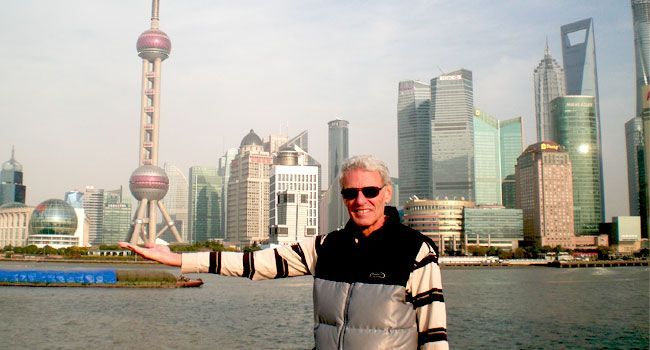 Feedback about Vanessa
Vanessa, my trip was exceptional, and thanks for being proactive in finding me in Shanghai. The guides were great, and very knowledgeable. The locations we stayed were very good, service excellent, food good, and fun. I rate my trip a 5 and appreciate your service in getting this booked and done so well. Be glad to provide input in a customer sat form if you have one.
I'll remember you - and the trip and hope to do more traveling with your company.
- John
By ITZHAK ; Tour Date: March 20, 2016 - March 20, 2016
"Dear VanessaThe tour is o.k.The guide Julie is excelent and she taught us many things about the life in China.By the way I am a tourism consultant and a journalist and I can recommend your tours.Very thanksfullyItzhak >"
By Margaret ; Tour Date: March 18, 2016 - March 19, 2016
"Hi Vanessa,Thank you for your email, Both Margaret and I have nothing but praise for the services of your guide Elaine Liu. She was waiting for us at the pre- arranged time, and from start to finish she gave us an extensive running commentary and was>..."
7 Days Beijing, Xian, Chongqing, Yangtze, Yichang, Shanghai Tour
By Tanya ; Tour Date: September 23, 2015 - September 29, 2015
"Hello, We my mum and visited China in September last year, and were really pleased with the recommendations made by Vanessa Zheng. I'm about to recommend a friend to China Travel as well ... cause I'm sure she will enjoy China as much as we did with the>..."
Visa-free Shanghai Essence Tour
By Mark ; Tour Date: February 7, 2016 - February 10, 2016
"Hi Vanessa,We had a great time in Shanghai and Esther helped make it a memorable occasion. Happy new year, Mark >"
11 Days Beijing, Luoyang, Dengfeng, Zhengzhou, Harbin Tour
By Sai ; Tour Date: January 10, 2016 - January 20, 2016
"Tour was generally very good... Sights were interesting and unique to each of the areas. Christian hotel was an outstanding hotel with excellent rooms and exceptional service staff. >"
By Vince ; Tour Date: January 4, 2016 - January 4, 2016
"Good organization and punctuality of your team, so only to be happy to have choosen your travel agency to live this experience on Li River. Moreover the appendix in the countryside it is very interesting to better understand the uses in Guilin region. >"
5 Days Hong Kong, Guangzhou, Guilin, Yangshuo Tour
By ANDREW ; Tour Date: December 26, 2015 - December 30, 2015
"Hi Vanessa thank you for all your help - we would be especially grateful if you could thank once again our excellent guide Foster. We're very happy to answer your questions and give our feedback and please don't hesitate to use any of this if it's>..."
4 Days Beijing, Xian, Shanghai Tour
By Victor ; Tour Date: December 27, 2015 - December 30, 2015
"Thanks for asking. The trip was exactly what I was looking for. I can think of no disappointments or shortcomings. The guides were knowledgeable, their English was excellent and they were personable. I would provide unequivocal support for guides Tom>..."
By Judah ; Tour Date: December 19, 2015 - December 19, 2015
"Hey Vanessa! I arrived home safely after a long but amazing trip in China.I want to thank you deeply for making my Trip to Shanghai such a pleasant one. As you know my first memories of China were rough, from falling into the 450 rmb taxi trap to my>..."
Travel Advisor of This Tour
" Hello, my name is Vanessa. I am a travel advisor at China Travel. I worked as a travel advisor for 5 years and helped more than 1300 international tourists ... "
Travel Confidently with Us

10,000 Satisfied Customers

50 Years in China Travel Industry

Quick Response within 24 hours

Secured Online Payment

Group Tours with Solo Adventure

No Hidden Fees and No Traps