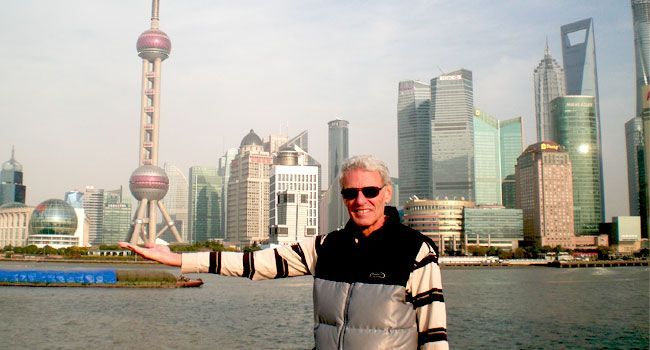 Feedback about Vanessa
Vanessa, my trip was exceptional, and thanks for being proactive in finding me in Shanghai. The guides were great, and very knowledgeable. The locations we stayed were very good, service excellent, food good, and fun. I rate my trip a 5 and appreciate your service in getting this booked and done so well. Be glad to provide input in a customer sat form if you have one.
I'll remember you - and the trip and hope to do more traveling with your company.
- John
4 Day Guilin & Yangshuo Memories Tour
By Hakan from Sweden ; Tour Date: July 3, 2011 - July 5, 2011
"The tour was good, and changed to go golf car on our request. Li River was Nice water. Thank you for all your help. >"
By Merton from Australia ; Tour Date: June 23, 2011 - June 24, 2011
"We enjoy the Yangtze River cruise. Our boat driver had a beautiful voice.Lunch is good, our guide is excellent, and driver is also very good. >"
By Nelson from United States ; Tour Date: June 10, 2011 - June 13, 2011
"Our guide Esther was awesome! She was very knowledgable and amazing.Very good command of english, She was willing to please and accomodate our needs based on China Highlights approval. >"
14 Days Beijing, Xian, Jiuzhaigou, Chongqing, Yangtze, Yichang, Shanghai, Tongli, Suzhou Tour
By Jennifer from Malaysia ; Tour Date: October 22, 2011 - November 4, 2011
"They are efficient as well. When we could not visit Huanglong due to bad weather -- they quickly offered to see if we could get a refund -this impressed us . >"
7 Days Beijing, Xian, Shanghai Tour
By Arturo from Philippines ; Tour Date: October 20, 2011 - October 26, 2011
"This was the third time I brought such a big group in China but what was so interesting in this trip was that we went farther to Xian and all went smoothly. Vanessa was a WOW the preparation was excellent and she was very helpful and flexible in the>..."
7 Days Beijing, Xian, Shanghai Tour
By Arturo from Philippines ; Tour Date: October 20, 2011 - October 26, 2011
"I can say that Ms. Zheng work was excellent. She was very helpful, consultative, and patient especailly in the midst of some unforeseen event that happened along the way. She displayed flexibility, attention and assistance all the way. I can say that as>..."
5 Days Xiamen, Guilin, Yangshuo Tour
By Silke from Germany ; Tour Date: August 29, 2011 - September 2, 2011
"Life's been a bit hectic since I'm back and I haven't got around to replying to you properly. In the meantime please rest assured that I had a fantastic time. Ricky was amazing, please tell him I said hello and I will reply to his email in due course too. >"
7 Days Kuala Lumpur, Beijing Tour
By THAU from Malaysia ; Tour Date: October 15, 2011 - October 21, 2011
"My daughter and I had a wonderful trip. Thanks for all the assistance. I will surely use your company again for my next trip to Shanghai next year. I will recommend your service to my friends and relatives as well. >"
4 Days Beijing, Hong Kong Tour
By Murad from Jordan ; Tour Date: October 16, 2011 - October 19, 2011
"Thank you for your help in making this tri unforgettable. And also special thank you to our guide aida and the driver. >"
Travel Advisor of This Tour
" Hello, my name is Vanessa. I am a travel advisor at China Travel. I worked as a travel advisor for 5 years and helped more than 1300 international tourists ... "
Travel Confidently with Us

10,000 Satisfied Customers

50 Years in China Travel Industry

Quick Response within 24 hours

Secured Online Payment

Group Tours with Solo Adventure

No Hidden Fees and No Traps