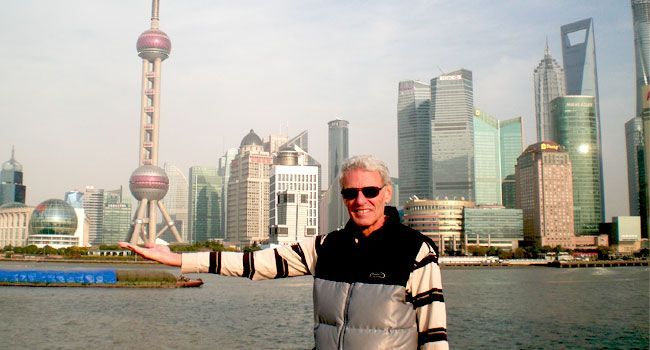 Feedback about Vanessa
Vanessa, my trip was exceptional, and thanks for being proactive in finding me in Shanghai. The guides were great, and very knowledgeable. The locations we stayed were very good, service excellent, food good, and fun. I rate my trip a 5 and appreciate your service in getting this booked and done so well. Be glad to provide input in a customer sat form if you have one.
I'll remember you - and the trip and hope to do more traveling with your company.
- John
14 Days Shanghai, Yichang, Yangtze, Chongqing, Xian, Beijing Tour
By Anthony ; Tour Date: April 26, 2015 - May 9, 2015
"Seasonal greetings to you, everything thing appears to be going good. Looking forward to our venture to China, and thank you for all your help, truly appreciated. Regards Anth >"
13 Days Beijing, Xian, Guilin, Yangshuo, Chongqing, Yangtze, Yichang, Shanghai, Hong Kong Tour
By SK ; Tour Date: September 12, 2015 - September 24, 2015
"Vanessa is the best! :-) >"
By DAVE ; Tour Date: April 4, 2015 - April 7, 2015
"I was very pleased with the main highlights of the trip. Accepting that nothing can be done about the weather which meant that the trip to the rice fields was shrouded in mist and the river trip had rain at times. Dave >"
4 Days Chongqing, Yangtze, Yichang Tour
By Be ; Tour Date: July 24, 2015 - July 27, 2015
"Vanessa was very helpful and even answered my email when she was away from the office. She made our planning very easy - thank you ! Be >"
By Serdar ; Tour Date: April 10, 2015 - April 13, 2015
"our guide was exceptional respectfull and warm. >"
11 Days Beijing, Yichang, Chongqing, Xian, Hong Kong Tour
By Melvin ; Tour Date: April 7, 2011 - April 17, 2011
"Vanessa, Thank you for the information. We still talk about our trip down the Yangtze River. We would recommend you and your company to anyone who would like to travel to China. Best regards to you. Mel >"
One day tour from Shanghai to Suzhou and back
By R ; Tour Date: June 1, 2015 - June 3, 2015
"Hello Vanessa The 2 day trips to water towns near Shanghai proved to be very good. Everything went smoothly and we were particularly impressed with our guide on both days i.e. Bright. Thank you for making the booking process trouble free. On any future>..."
11 Days Hong Kong, Guilin, Longsheng, Yangshuo, Chengdu, Chongqing, Yangtze, Yichang, Wuhan Tour
By Janet ; Tour Date: September 8, 2014 - September 18, 2014
"Dear Vanessa, thank you for the birthday greetings, I still have so many wonderful memories of our trip, thank you again for making it such a magical experience. Kindest regardsJanet >"
Travel Advisor of This Tour
" Hello, my name is Vanessa. I am a travel advisor at China Travel. I worked as a travel advisor for 5 years and helped more than 1300 international tourists ... "
Travel Confidently with Us

10,000 Satisfied Customers

50 Years in China Travel Industry

Quick Response within 24 hours

Secured Online Payment

Group Tours with Solo Adventure

No Hidden Fees and No Traps