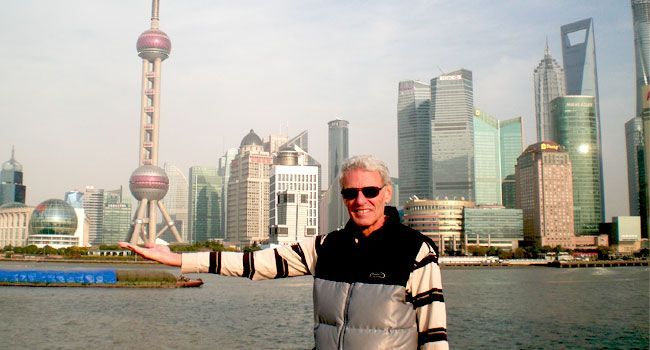 Feedback about Vanessa
Vanessa, my trip was exceptional, and thanks for being proactive in finding me in Shanghai. The guides were great, and very knowledgeable. The locations we stayed were very good, service excellent, food good, and fun. I rate my trip a 5 and appreciate your service in getting this booked and done so well. Be glad to provide input in a customer sat form if you have one.
I'll remember you - and the trip and hope to do more traveling with your company.
- John
By Serdar ; Tour Date: April 10, 2015 - April 13, 2015
"Dear Vanessa,We are back at home after 4 nice days in Beijing.I would like to thank you and your colleagues because of your close and warm hospitality.I hope we may meet once again with another trip to China.Best Regards!Serdar >"
4 Days Chongqing, Yangtze, Yichang Tour
By Barry ; Tour Date: March 22, 2015 - March 25, 2015
"Vanessa We travelled on Yangtze Gold 1 as indicated below and I thought we would give you some feedback. The boat was very modern and provided just about all amenities and was well appreciated by all people in our party. The meals provided included a>..."
By Suzette ; Tour Date: February 5, 2015 - February 8, 2015
"Hi Vanessa, Thanks for all your help booking this great trip.We had a great time!Everything was wonderful. I have enjoyed all my trips that China Travel has handled for me I will definitely be contacting you when I need my next tour. Have a great>..."
By Philip ; Tour Date: February 19, 2015 - February 21, 2015
"Hello We have been very impressed by the help we have received from Vanessa Zheng regarding a visit she has organised for our son - very quick replies, very clear emails - excellent - many thanks Vanessa! She really does inspire confidence in your>..."
By Thomas ; Tour Date: December 31, 2014 - January 3, 2015
"Good morning Vanessa. We found the trip perfect for what we were looking for. Our guide Momo was very nice and patient with us and was happy to do whatever we wanted to do. We are under 25 years of age also. Regards, Thomas >"
8 Days Beijing, Xian, Shanghai Tour
By Samantha from United States ; Tour Date: December 12, 2014 - December 19, 2014
"Vanessa, everything is going very well in Beijing Thank you,Samantha >"
5 Days Shijiazhuang, Chongqing, Yangtze, Yichang, Beijing Tour
By Randall ; Tour Date: October 4, 2014 - October 8, 2014
"Dear Vanessa, The entire trip was fabulous and very much worth the effort. The entire thing went without a single glitch. I appreciate all the services arranged by the Guilin people, all the tickets arranged and waiting for us, the guides helpful and>..."
9 Days Tianjin, Xian, Linfen, Chongqing, Yangtze, Yichang, Beijing Tour
By Angela ; Tour Date: October 7, 2014 - October 15, 2014
"Dear Miss Wen I would like to let you know that your employee Vanessa Zheng is a smart and faithfulness person. She has good English skill which reflected on the quotation and confirmation letters. She helped arranging the best and perfect travel route and>..."
13 Days Hong Kong, Guilin, Yangshuo, Chongqing, Yangtze, Yichang, Shanghai, Xian, Beijing Tour
By Derek ; Tour Date: December 22, 2014 - January 3, 2015
"Dear Vanessa,Very well organised. Not too expensive. We greatly valued the services of our English speaking guide, Vicky. It simplifies things for us as we do not speak Chinese Regards, Derek >"
Travel Advisor of This Tour
" Hello, my name is Vanessa. I am a travel advisor at China Travel. I worked as a travel advisor for 5 years and helped more than 1300 international tourists ... "
Travel Confidently with Us

10,000 Satisfied Customers

50 Years in China Travel Industry

Quick Response within 24 hours

Secured Online Payment

Group Tours with Solo Adventure

No Hidden Fees and No Traps