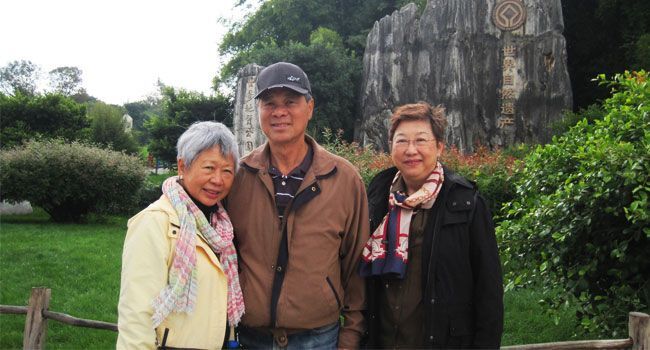 Feedback for Vivi Chen
Hi Vivi:
We'd like to thank you so much for helping to arrange our wonderful trip to Kunming. My husband, sister-in-law & I thoroughly enjoyed ourselves & gained insights into urban, modern Kunming, which totally surprised us, & rural Dongchuan, which stunned us with its beauty.
It was thoughtful of you to call us on our first full day there to ensure everything was ok.
We had an excellent guide in Murphy, an equally excellent driver in Mr Li & a most comfortable vehicle to travel in.
Blessings,Pat
24 Days Hong Kong, Shanghai, Suzhou Tour
By DONNA ; Tour Date: April 6, 2015 - April 29, 2015
"Hi there, Just some feedback regarding our Tours booked with China Travel from 3rd April to 29th April 2015. Tour:CYM150207052 ? Firstly a very big thank you to our Travel Advisor Vivi Chan for her great planning from what we wanted to see in China. When>..."
By Rocco ; Tour Date: March 14, 2015 - March 14, 2015
"Dear Vivi...I just want to thank you for the wonderful tour of Beijing.. Our bus drive was on time who picked us up at the hotel, the guide was very informative and professional. we were a group of seven which made it easy visiting the seights. I would>..."
12 Days Hong Kong, Guilin, Yangshuo, Kunming, Lijiang, Chongqing, Yichang, Yangtze, Guangzhou Tour
By Frances ; Tour Date: March 23, 2015 - April 3, 2015
"Vivi is most attentive, knowledgeable, and professional with her planning of our 12 days of travel throughout southern China. We just were picked up at the Hong Kong airport by Cecelia, checked into Metropark hotel, and we are preparing for a half-day tour>..."
By Nedhal ; Tour Date: April 5, 2015 - April 7, 2015
"Vivi is really on top of demands >"
4 Days Chongqing, Yichang, Yangtze, Wuhan, Guilin Tour
By Gemma ; Tour Date: August 24, 2015 - September 2, 2015
"Hi Elaine, Vicky Thank you for contacting me to ask for feedback. Vicky - I noticed your details at the end of Vivi emails so I have copied you in as well. Vivi's service has been excellent - she has not only advised and quoted on several>..."
5 Days Beijing, Xian, , Guilin, Shenzhen Tour
By Gareth ; Tour Date: January 17, 2015 - January 21, 2015
"We really enjoyed our time in China, sure it was cold in Beijing, but it was ok. The Great Wall, Summer Palace, Palace Museum and Terracotta Army were all great and we had a nice time in Yangshuo. The trains booked with China Travel were ok, a bit noisy for>..."
6 Days Guilin, Yangshuo, Longsheng Tour
By Yin ; Tour Date: March 19, 2015 - March 24, 2015
"Vivi presents an attitude of being personally involved and concerned. She was willing to make adjustments and honor requests, large or small. We are now looking forward to a great trip experience. this trip by Lily Huang of China Highlights, which I>..."
By Michael ; Tour Date: December 30, 2014 - December 30, 2014
"We only had about 8 hours to spend in Shanghai but we didn't want to sit around the airport. Our delightful young guide, Candy, met us at the airport and showed us the very modern side of the city as we headed to the city centre. Here she took as along "the>..."
4 Days Chongqing, Yichang, Yangtze Tour
By Chiara ; Tour Date: December 23, 2014 - December 26, 2014
"Dear Vivi, Sorry for the late reply but I was in the middle of flights for returning back to Italy. 1. The overall impression of the trip was very good! The places we saw were awesome and I think that the three gorges dam lock should have been better>..."
6 Days Shanghai, Hangzhou Tour
By Keng ; Tour Date: November 21, 2014 - November 26, 2014
"Dear Vivi A big thank-you to you and your guides. We had a wonderful time. I am sorry I had no time to reply to your survey earlier. You were very efficient and prompt in handling my request. We had no problem at all during our trip. Thanks>..."
Travel Advisor of This Tour
"Hi, I am Vivi from China Travel. It is lucky that I can work in this energetic team. China has abundant and enchanting travel resource. I'm willing to help people from all over the world to explore and tour great China. We are waiting for you in China! "
Travel Confidently with Us

10,000 Satisfied Customers

50 Years in China Travel Industry

Quick Response within 24 hours

Secured Online Payment

Group Tours with Solo Adventure

No Hidden Fees and No Traps