Why Adventure in China?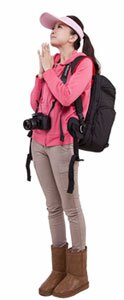 China is a country that boasts of a vast territory and rich tourism resources. It occupies an area of about 9.6 million square kilometers with a more than 5,000 years history. China has a complex landform including plateau, basin, plain, hills and islands. With 56 nationalities, it is characterized with multi-culture. You can explore a variety of unique and exciting adventure journeys in China.
There are a lot of different adventure types in China consisting of hiking, biking, camping, rock climbing, drifting, flying, hot-air balloon, helicopter, diving, skiing and culture discovery.
Hiking the Tiger Leaping Gorge, biking and rock climbing among excellent Karst landscape in Yangshuo, Guilin or hiking along the Great Wall are exciting adventure travels in China. You can also take part in some other adventure travels such as skiing in a lot of places in North China in winter, diving in Sanya of Hainan Province in summer or explore a culture discovery in Southwest China.
Top 10 China Adventure Destinations
China Adventure Travel Tips
What to pack?
To prepare packages properly is the first step to your adventure travels. Enough suitable and warm clothes are necessary. A pair of water-proof shoes or sandals is useful in rainy days or in forests.
To wear a hat, a sunglass and bring enough sunblock is a wise idea. There are too strong ultraviolet rays in most areas during your adventure travels. To prevent yourself from sun burning is very important. There is a list of packages:
Enough suitable clothes
A hat, sunglass and sunblock
Water and a handy water bottle
Money belt
Daypack bag
Individual medicines
Daily necessary supplies
Camera
Torch
Compass and a map
Swiss army style knife
Watch and phone
Notebook and a pen
Small padlock to lock your back bag
See more on China Travel: What to Pack
Emergency Deal
The adventure travels are full of unknown elements, so you need to know how to deal with some common emergencies. When you face an emergency outside, the first thing to do is to keep yourself calm down, and then to think ways to solve the problems.
Besides, you can call 110 for police, 119 for fire and 120 for ambulance when you are in danger. 110 is generally used for all the emergencies in the Mainland China. And you can call 999 in Hong Kong and 000 in Macau.
See more on China Travel: Dealing with Emergencies in China
First –aid
Self first-aid is very important during your adventure travel. And you can keep a copy of your medical records and buy some usual medicines for the trip. We recommend you to have an adventure travel with other travelers so that you can help each other when you are in trouble. You can also call 110 and 120 when you need help in the mainland.
Disinfected bandages
Pepto-Bismol for mild diarrhea
Antiseptic liquid
Throat lozenges
Moist lotion and salve for sunburn
Antacid tablets
How to choose a China Adventure Tour Company?
To choose a right Chinese tour company is a key to an unforgettable adventure journey. You need to choose a rich-experienced and reputable company which provides customers with high quality adventure travel tours. You can also check out all the detail information including attractions, hotels, transport and prices so that you can well prepare for the trip.
See more on China Travel: Why choose us?
We offer the following China adventure tours:
Travel Confidently with Us

10,000 Satisfied Customers

50 Years in China Travel Industry

Quick Response within 24 hours

Secured Online Payment

Group Tours with Solo Adventure

No Hidden Fees and No Traps