China Autumn Travel and Tours

China in autumn is a beautiful and colorful picture! You can enjoy a cool and wonderful journey of red leaves of Fragrance Hill Park in Beijing, green karst landscapes in Guilin and blue sky in mysterious Tibet. The most famous Great Wall, listed in Seven Wonders of the World is marvelous scenery decorated by colorful trees. Are you attracted by the great autumn scenery in China? Here China Travel which is specialized in group tours with solo adventure has selected the best destinations in autumn for you.

Beijing
Thousands of red maple leaves make Fragrance Hill Park become a famous destination in Beijing. Ginkgo trees turn gold in autumn. The most famous Great Wall, a symbol of China is full of colorful trees. It is deeply loved by travelers and photographers at the time. The time for the most brilliant autumn scenery in Beijing is from October 15th to November 10th every year.

Huangshan
The Yellow Mountain in autumn is filled with red maples, golden trees and green pines. You can enjoy an unforgettable and colorful journey on the mountain. Located in southern Anhui Province, it is one of the most popular destinations all year round. Oddly-shaped pines, grotesque rocks, hot springs and sea of clouds are highlights of the Yellow Mountain.

Yangtze
The mountains along the Yangtze River are decorated by all kinds of colorful trees and grasses in autumn. The Yangtze River cruiseoffers a safe and comfortable journey of magnificent and colorful scenery. You can enjoy an essence travel between Chongqing and Yichang in Hubei Province, or a classical tour between Chongqing and Shanghai.
Guilin
Guilin has beautiful green karst landscapes in autumn. Located in the southern China, Guilin's autumn scenery comes later than the northern parts of China. If you miss the beautiful autumn scenery in the north, you can come to Guilin to enjoy a golden sea of ginkgo trees in November. Haiyang Ginkgo Villages has thousands of golden ginkgo trees during the period.

Hangzhou
Hangzhou West Lake is full of golden trees along the lakes. China has an old saying about Hangzhou that there is a paradise in the sky, and there is Suzhou and Hangzhou in China. Golden trees, colorful hills, beautiful islands and clear water make up of beautiful autumn scenery of West Lake.

Sichuan & Tibet
Sichuan and Tibet are neighbors and shares the beautiful plateau landscape. Autumn is probabily the best season to travel to Sichuan and Tibet as the weather is neither too cold nor too hot. You can visit Jiuzhaigou fairyland and beautiful lakes and snow moutains in Tibet, Nyingchi and Nam Lake which are one of the hottest destinations in China are colorful heavens in autumn.
Got Questions? Ask us here:
Tailor-make your China trip based on your needs. Free inquiry, save time and money!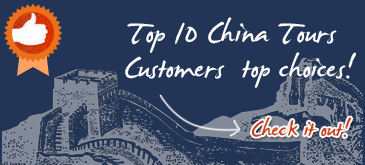 Travel Confidently with Us

10,000 Satisfied Customers

50 Years in China Travel Industry

Quick Response within 24 hours

Secured Online Payment

Group Tours with Solo Adventure

No Hidden Fees and No Traps