The Great Wall is the grandest military project in Ancient China. It was firstly built in the Spring and Autumn Periods by the king of Yan Country (燕国). Recorded by the National Heritage Board in 2012, the total length of the Great Wall is 21196.18km (13170.7 miles). It has a long history of more than 2,000 years and became a World Heritage Site by the UNESCO in 1987.
Initially built as a defensive system, now the Great Wall is the symbol of China. The wall runs from the east to the west, covering 15 provinces and cities including: Beijing, Tianjin, Hebei Province, Henan Province, Shanxi Province, Inner Mongolia, Liaoning Province, Jilin Province, Heilongjiang Province, Shandong Province, Henan Province, Shaanxi Province, Gansu Province and Qinghai Province.
The visitable Great Wall today is the part built in the Ming Dynasty (1368-1644), thus it is also called Ming Great Wall. There are 101 sections in different provinces; they are of different construction time, history, style and perseveration. Only 10-some sections of the 101 are open to tourists.
Sections of the Great Wall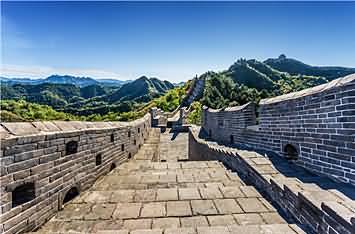 The Great Wall starts from Jiayuguan Pass in Gansu Province and meets the ocean in Hushan Mountain in Liaoning Province. There are over 101 sections remaining in 15 provinces and cities. Below are the detailed information.
Beijing (9 sections): Badaling, Mutianyu, Juyongguan Pass, Jiankou, Gubeikou, Simatai, Jinshanling, Huanghuacheng and Shuiguan.
Gansu Province (7 sections): Dunhuang (the Han Great Wall), Jiayuguan Pass, Juyan Fortress, Yangguan Pass, Yumenguan Pass, Overhanging Great Wall and Shandan.
Shanxi Province (5 sections): Guguan Pass, Niangziguan Pass, Ningwuguan Pass, Pianguan & Pingxingguan and Yanmenguan Pass. Hebei Province has 4 sections: Shanhaiguan Pass, Xifengkou and Sandaoguan, Zijingguan Pass and the Great Wall in Zhangjiakou City.
Shaanxi Province (3 sections): The Great Wall in Yulin, Great Wall of Wei Dynasty and Zhenbeitai.
Liaoning Province ( 2 sections): Hushan and Jiumenkou.
Tianjin City (2 sections): Huangyaguan Pass andTaipingzhai.
Ningxia Province has one section: Sanguankou.
Popular Sections of the Great Wall
Great Wall Travel Tips
Tips for Great Wall Photography
The Great Wall seems like an all-time favorite for professional cameramen. A successful photography tour is all about choosing the right section at a right time.
Attracting numerous photographers, the most photographic Great Wall sections include Mutianyu, Jiankou, Jinshanling and Simatai. Expect for Mutianyu Section, other sections with varied gradients offer jaw-dropping views and rich experience that is going to level up your photography skills.
The best time for photography differs per section, yet the general best time would be summer and autumn.
The above mentioned sections can be done within one day. Nevertheless, if you are going for the sunset, sunrise or night sky photos, you will need to spend one night camping at the wall or home-stay in a village.
Photographer expertise is important for your trip. In another word, your tour guide should also be photographer himself/herself. Leading you to the unique locates for unique shots, sharing his/her own experiences and knowledge, such a tour guide is a part of your successful photography tour. You can hire professional photography guides at local travel agencies or join a photography tour arranged by related association or photo club.
Besides common supplies, essential gears for your trip include a wide-angle lens, lens hood, tripod, flash light, endurable camera pack, teleconverter, lens cleanser clothes and at least 2 extra batteries.
Tips for Great Wall Hiking
Arranging a Great Wall hiking trip for pros requires much time and expertise. These professional hikers or enthusiasts wouldn't mind spending one week at the wall, let alone the planning time.
For most common travelers, the best choice is less than 5 days, mostly 2 days and 3 days. The best hiker-friendly Great Wall sections are Gubeikou, Jinshanling, Jiankou, Simatai and Huanghuacheng.
Suggested Itinerary for or 2-day Great Wall hiking: Day-1 Beijing-Gubeikou-Jinshanling; Day-2Jiankou-Mutianyu-Beijing on Day Two is a popular choice. This route covers four respectively wild sections and one restored one: Mutianyu Section.
For 3-day Great Wall hiking, suggested itinerary: Day-1 Beijing-Gubeikou-Jinshanling, Day-2 Jiankou-Mutianyu; Day-3 Huanghuacheng-Xishuiyu Lakeside Great Wall-Beijing. Trekking up the mountain side and eventually down to the ground and visit the part of Great Wall immersed underwater.
However you plan your hiking trip, safety, physical condition and weather adaptability are the top factors. A guided hike meets the standards better than a self-oriented one. At some dangerous part, such as Jiankou and Simatai, you need guidance and help to walk your way through the collapsed walls.
As weather-wise, the best hiking time at the Great Wall will be late summer and autumn. At this time of year, the weather is dry and hot, you will have clear views and safer walking trails. Furthermore, starry night outside the big city is just irresistible. Whenever you go, check the weather 3 days beforehand.
Accommodation choice at the Great Wall is limited, basically farmhouses, hostels and guesthouses. Camping at the Great Wall is possible at some certain sections but requires agency arrangement. If you hike with a professional hiking guide, you don't need to bring your own camping tent.
Gearing up for the hike, you should pack up sunglasses, sun block (for hike starts at noon), hat, good hiking shoes, coat, hiking cane, compass, map, flash light (for overnight in the village or camping at the Great Wall), bottles of water and some snacks that provide quick energy.
Great Wall Trip in One Day
If you only have one day for the Great Wall, you better make it count: avoid the crowds, take in best vista of the Great Wall and don't wear yourself out. Mutianyu Section of the Great Wall is an excellent choice.
Comparatively, Mutianyu Section meets less tourists and its proximity to Beijing makes it a worthwhile day trip. For an easy visit, take a cable car up to the peak and enjoy an exciting toboggan ride downhill (not suitable for kids under 4 and elders above 70). After a couple of hours at the Great Wall, stretch your visit to the Royal Ming Tombs, just one hour on the way.
Local travel agencies or online travel websites offer bunch of Great Wall one-day trips. It is easier to book one of them than arranging the whole trip by yourself. Details of travel time and transportation can be big head-scratchers.
Tailor-make a Trip to Visit Great Wall
Want to take a trip to visit the Great Wall of China? Tell us your rough thoughts and our experienced travel advisors will help you plan your trip and the rest of all travel things. >>Tailor-make your tour now.