Shop Till You Drop in Hong Kong...

Hong Kong has always been called as the Paradise of Shopping by locals and travelers due to its numerous categories of goods, competitive service and beatable price! In fact, Hong Kong shopping is even considered as an "attraction". As the saying goes, do as the Romans do when in Rome. When in Hong Kong, shopping always tops the travelers' to do list. Here we give a guide about where to go according to what you need, ranging from big malls in top shopping areas to street markets with specialties! ©
Top Shopping Areas in Hong Kong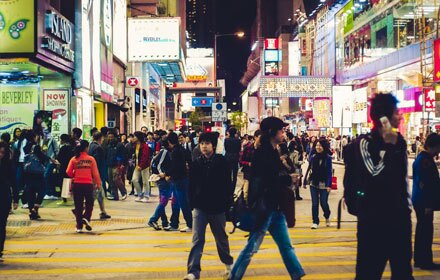 Causeway Bay
Located in Hong Kong Island, Causeway Bay (铜锣湾) is the premier business, entertainment center and also the shopping center. The rent for places in this area is very expensive, which is second only to the Fifth Avenue in New York. It is now a landmark of Hong Kong Shopping. Every day the area is bustle and hustle. Many famous Hong Kong movie/singing stars may go shopping there. It even becomes a must-go place to shop till drop for a lot of Asian stars. In 2013, Causeway Bay has become the second best spots travelers wishing to visit in Hong Kong. The first one is Tsim Sha Tsui (尖沙咀).
Below is what we recommend. SOGO (崇光百货) is the largest and best department store in Hong Kong including a big supermarket (Freshmart) and over 150 big brands on sale. It is also the landmark of Causeway Bay. Time Square Shopping Mall (时代广场) is one of the top five malls in HK boasting 16 floors and around 200 stores. It is the first mega-mall in the city, aiming at the average shoppers by providing a wide range of mid-range brands both from local and foreign countries. There is also no lack of food in the mall from local food to various international restaurants. A big food court standing different stalls is also in it.
Other places worth going are Yee Woo street, Fashion Walk,Lee Gardens and Lee Gardens Two, Jardine's Bazaar and Jardine's Crescent. These spots offer a variety of luxury and budget fancy brands. You will not leave empty. Shops and streets will be busy until 22:00. Flocks of locals hunt for great bargains there as great discounts are offered every day for most big brands.
How to get there:

Take First Bus No.65 and get off at SOGO Stop (崇光百货站);
Take City Bus No.96 and get off at Wan Chai Fire Department Stop (湾仔消防站);
Take Hong Kong Island Bus Line No. 10 and get off at SOGO Stop (崇光站);
Take Bus No.171/n171 and get off at Jiannadao West Stop (坚拿道西站).
Recommended Tour: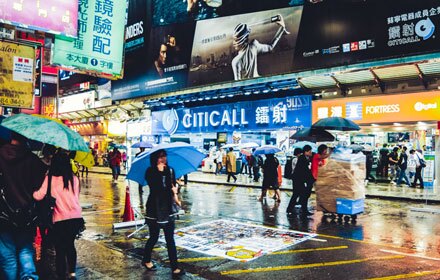 Mong Kok
Different with that of Causeway Bay, Mong Kok (旺角) is far less glitzy and main for ordinary locals. However, this area is the most populated area per meter in the world and also the most crowded street! Some stores and restaurants even run 24 hours. The whole area is full of banks, skyscrapers and small stores with different specialties. Visitors will meet numerous markets selling anything cheap Chinese fashion you could think about, handbags, watches and copy versions of many designer products. You will even find a Goldfish and Flower market there.
Although most of the crowds are travelers, you could still come across many locals wandering around looking for bargains. This would be a very nice area to see real and traditional local life. Many traditional and old stores like the traditional cookies store, mah-jongg stores and baldachin stores in town. It owns several oldest streets in Hong Kong and walking would be the best way to explore them. Mong Kok area is also famous for its delicious and popular food from all over the world. The area could also be taken as the second dining hall for locals.
The landmark in Mong Kok area is Langham Place (朗豪坊) consisting of a big mall, a hotel and an office. Grand Atrium on the 4th floor serving as a main conjunction of the mall, hotel and the office tower is a main highlight. Visitors could take the longest elevator Xpresscalaltors in HK to the 7th floor. The sculpture in front of the place named Happy Man is the landmark of Langham Place. In total there are 13 floors of the building.
The other one is the Mong Kok Computer Center. It is one of the best centers in Hong Kong for cheap computer gear. Don't miss this place!
How to get there:

Take subway Guantang Line (观塘线) and Quanwan Line (荃湾线), then get off at Wangjiao Station (旺角站).
Tour Idea: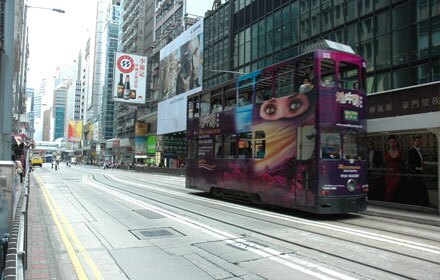 Central
The Central District (中环) is the political and commercial center in Hong Kong. The area gathers many fancy and top-end stores, financial centers and a variety of dining places offering expensive cuisine. Some said it jokingly that the area is awash with cash as one will find the swankiest malls and stores located in these buildings. Top-end shops such as Luis Vuttion, Harvey Nichols and some other luxury department stores find their places in Central.
In Central District, Pacific Place (太古广场) would be one of the best five shopping malls in Hong Kong for selections of real upmarket from Armani to Versace and things in between. Instead of a bargain place, the area is more like the home to something new from the fashion shows of Paris and London. The place also serves everything you could imagine but most are international top notch brands instead of Chinese or Asian brands. Delicious local food and other cuisines from different places are also offered in this fancy mall. Pacific Place is closely connected to three top hotels in Hong Kong and a cinema.
If you want to get to the heartland of the Central, then the Landmark (置地广场) is the place to go. While it offers the chic and swanky international boutiques there with unbeatable quality, it is the home of heavy price tags in the city. Even the fruit in the supermarket is not cheap! But surely it will give you a thrilling shopping experience. Just remember to take your credit card and you could indulge yourself in flagship stores of Harvey Nichols and Louis Vuitton, fashion stores like Alberta Ferreti and Gucci, shoes and handbags brands such as Celine and Fendi. The Jewelry store De Beers even set its foot there. When you are tired, Caviar Gaspia(French) Amber would be a star restaurant offering you a place of refreshment in elegant surroundings. It is in the Landmark Oriental Hotel.
How to get there: Take MTR Quanwan Line and get off at Exit D1 of Central Station (中环站).
Tour Idea: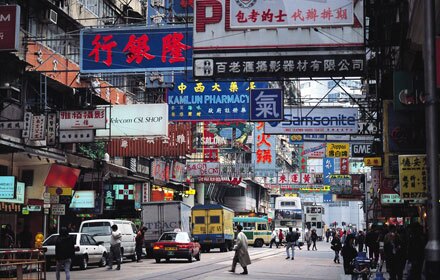 Sham Shui Po
Located in the south end of Koo-loon Peninsular, Sham Shui Po(尖沙咀) is on the opposite side of Central District across the Victoria Harbor. It is the major shopping and tourism area in Koo-loon. This exotic area is always favored by most travelers. No wonder there are many foreign visitors. Chuncking Mansion is the best testament of its exotic culture which was also rated as the Best Example of Globalization in Asia by the magazine Times. When entering the mansion, it seems going into India as it is the gathering place of southern Asian and African people. The biggest Mosque could also be found in the area near Koo-loo Park. A five star hotel Peninsular Hotel is full of England style where customers could enjoy a full view of Victoria Harbor. Kimberley Street is famous as a Korean Street nestled with many Korean restaurants and supermarkets for Korean food.
You may find there are not so many locals speaking English then people in Hong Kong Island do while shopping. Wholesale stores are highlights there providing cut price clothing to trade mainly. Individuals could still find something they want.
The recommended shopping mall there definitely is Harbor City (海港城), which is also one of the best five malls in the city consists of over 700 stores, 50 restaurants, two theaters and three hotels! It offers a wide range of goods from articles of everyday use to Jewelry. Many flagship stores and famous world-class names like Lane Crawford and Louis Vuitton call the place their homes. Every year during Christmas and Spring Festival, Harbor City will invite some hot stars to the light ceremonies. Once going there, it would be wise of you to write the brand names down you are going to buy in advance and ask the information desk about the exact floors and locations. When you see something you really love, do not hesitate or think about buying it later as you are likely to get lost or too tired to go back!
Golden Shopping Arcade (黄金电脑市场) is rated as the best priced computer center in Hong Kong for fames and gaming equipment.
How to get there: Take MTR Quanwan Line and get off at Exit A2 of Shams Shui Po Station(尖沙咀站).
Take West Rail Line and get off at Exit L4 of Jiandong Station(尖东站).
Recommended Tour:
Best Local Markets in Hong Kong
Besides top-end or mid-range malls in this international metropolis, there are some local markets specifying in certain ranges with low price. For visitors wishing to reveal the veil of local life, these markets would be nice doors to open Hong Kong culture.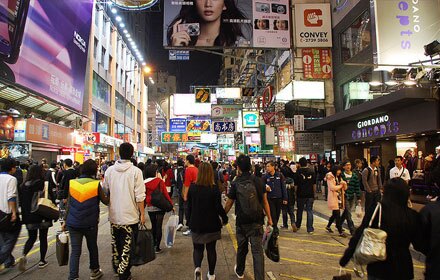 Ladies Market
If you only have a limited time to know the local market, Ladies Market (女人街) would be a good choice. Probably it is the most famous market in the city and also the must-go place for visitors. In the beginning, the market only sold articles of ladies. However, now the market offers a wide range of low priced goods like articles of daily use and men's clothing and even toys. Maybe Ladies' Market is also the gathering place of commodities in copies and fakes. Bargain is the topic when getting to this market.
Address: Tung Choi Street, Mongkok.
Tour Idea: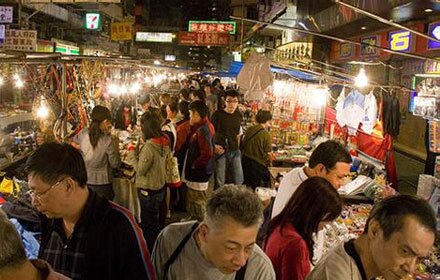 Temple Street Market
Temple Street Market (庙街) would be the best local market locals like to go. Even if you are not interested in buying anything there, numerous stalls there selling everything cheaply and the scene of crowds bargaining with vendors worth visiting. It would be much more like enjoying the atmosphere and a bargain than shopping there. Also don't leave before you grabbing a bite at a Dai Pai Dong which could be seen everywhere. The market gets busy when the dark is upon the city (2:00pm-11:00pm).
Anything popular and hot fashion in the malls could be seen their copies or fakes on the temple street market. They often offer a low price but you still can bargain hard. Around 3:00 pm it is the best time to buy things like silk clothing, fashion clothing (often fake or copy), Chinese embroidered linen and clothing, shoes, socks and underwear, CDS (often pirated) and antiques (often fake).  However, around 20:00 pm would be the perfect hours to experience the atmosphere there.
Address: Temple Street, Yau Ma Tei
Tour Idea: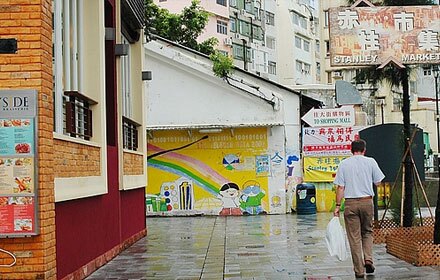 Stanley Market
Stanley Market (赤柱集市) is a nice market for foreigners to start their local market exploration. It only stretches two streets with nice covers. Most things are served as souvenirs, such as silk clothing, sports clothing, Hong Kong themed souvenirs, Chinese embodied linen and calligraphy. Most travelers like to get their English names transcribed into Chinese. In fact this is not a real tough local market, but for first-timers for market shopping, this offers a good start as most vendors could speak simple English and things are clearly categorized. Recommended place is I Love Hong Kong Souvenirs. Don't expect bargain there. It opens between 10:30 am and 6:30 pm. The best time to visit is in the morning before the crowds flocking into.
Address: Stanley Market Road, Stanley
How to get there: Take bus 6, 6X, 6A, 66, 260.
Tour Idea:
Tailor-make a China & Hong Kong Tour for You
Wanna take a shopping trip to Hong Kong? China Travel can tailor-make a China & Hong Kong tour for you based on your needs and requirements which can save your time, money, and trouble. Please feel free to tell us your tour ideas! >> Tailor-make Now! 
Recommended China & Hong Kong Tours: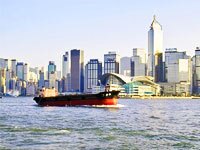 3-Day Essence of Hong Kong Tour
from USD $ 509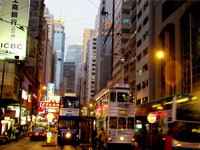 3-Day Hong Kong Memories Seat-in-coach Tour
from USD $ 269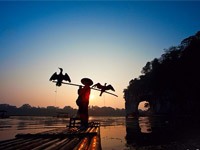 4-Day Hong Kong - Guilin Tour
from USD $ 769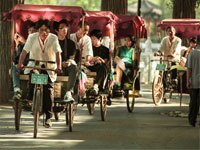 6-Day Essence of Hong Kong and Beijing Tour
from USD $ 1,429