The Yangtze River (长江) is the greatest river in China and is about 6,000 km long, behind only the Amazon and the Nile. For thousands of years this river has been a key transport route for the Chinese people and has been the cradle of Chinese civilization. Several major cities, such as Chongqing, Wuhan, Nanjing and Shanghai, lie along the river as testament to its importance. It boasts a rich culture as well as the famous Three Gorges scenery, and taking a Yangtze River Cruise is regarded as the best way to enjoy both. As the only gorge available for cruising, this is a must-do for foreign travelers visiting China. ©
Yangtze Cruise Itinerary
There are two major cruise itineraries. One is a nine-day (upstream) or seven-day (downstream) trip between Chongqing and Shanghai, passing the grand Three Gorges and the major part of the Yangtze River, which is managed exclusively by the Victoria Cruises Line.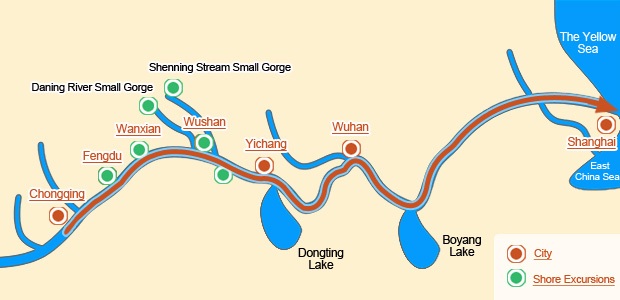 Cruise line between Chongqing - Shanghai
The other itinerary is a four-day (downstream) or five-day (upstream) route running between Chongqing City and Yichang County, which best presents the essence of the Three Gorge scenery. This is the most popular route.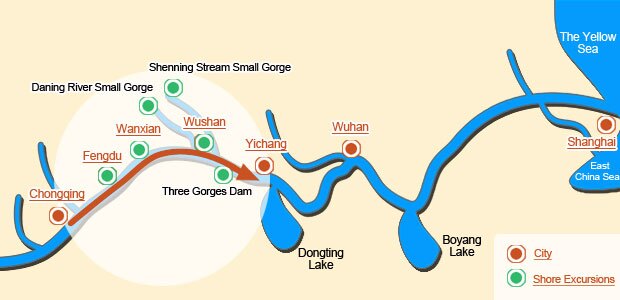 Cruise line between Chongqing - Yichang
What to See Along Yangtze River
Traveling on a the Yangtze River cruise has been popular for about 20 years, and although during these years some new attractions have been added as land excursions, and different cruise lines and cruise ships stop at different places, the essence remains the same. Whenever you board a Yangtze cruise, you will not want to miss Qutang Gorge, Wu Gorge and Xiling Gorge, and the chance to visit Fengdu Ghost City, Shibaozhai, and Baidicheng (white Emperor City), as well as the Three Gorges Dam and Shennong Stream.
The Three Gorges
Shore Excursions
Yangtze River cruises now offer land excursions. From upstream to downstream, attractions will be visited as follows. Some are included in the itinerary, whereas others require an extra fee. But do not worry, they are all are optional sightseeing, and visitors can decide by themselves what to do.
What's a Yangtze Cruise Like?
Yangtze Cruises are managed by several main cruise lines. Victoria Cruises, Century Cruises, Presidents Cruises and Changjinag Cruise Overseas Travel are the most famous and popular. In general, the conditions, service and equipment on offer are similar.
How to Choose a Yangtze Cruise?
Choosing an Itinerary
The trip between Chongqing and Shanghai takes seven days downstream, and nine days upstream. It visits Wuhan, Huangshan and Nanjing, which are popular among older people. The cruise ships running between Chongqing and Yichang take four days for downstream, and five days upstream.
The upstream trip will take one or two days more because the current when calling at the same the same spots, whereas the downstream trip will give guests a feeling of sailing downward with the current. Thus we would recommend that our customers take the cruise ship between Chongqing and Yichang for the downstream.
Choosing a Ship
Regarding cruise liners and cruise ships, different liners have their pros and cons. Century Cruises have refurbished their ships and two new cruise ships were launched in 2013 with modern designs and advanced equipment. They are the Century Legend and the Century Paragon.
If you are looking for a cruise liner with good quality of service, Victoria Cruises will not let you down. This line is managed by an American company, which means they understand the needs of Western guests very well.
For guests wishing to experience both sides of the coin, the President 1, the President 7 and the President 8 would be the perfect candidates; these are the most economical while the equipment and service are not inferior to other more expensive ships.
Top Cruise Ships
The five most economical cruise ships are the President 7, the President 8, the President Prime, the Century Star and the Victoria Jenna.
The four most popular cruise ships with European and American guests are the Victoria Katarina, the President Prime, the Century Sky and the Victoria Sophia. The three most luxurious cruise ships are the Yangtze Explorer, the Victoria Jenna and the Century Paragon.
How to Get to Yangtze Cruise Docks from Chongqing/Yichang
In Chongqing
All Yangtze Cruise ships depart from Chongqing dock in Chaotianmen Port (Changjiang Binjing Road, Yuzhong District, 朝天门码头) . However, note that there are different piers for different cruise ships in this large port. So, before getting there, make sure you know which pier to go to.
Chonqing Jiangbei Airport is around 27 km away from the port, and it takes about 40 minutes by taxi at a cost of 60 yuan in the daytime (6:00 a.m.–10 p.m.), and 80–100 yuan at night (10 p.m.–6 a.m.).
Chongqingbei Railway Station (Longtousi, Yubei District 重庆北火车站) is the most important railway station. It is also known as Longtousi Railway Station. A ride from the rail station to the port by taxi takes about 30 minutes.

In Yichang
If you take the Yangtze Cruise (upstream) from Yichang to Chongqing, there are two main docks in the city. One is Taohuacun Dock, serving ships from Changjiang Cruise Overseas Travel CO. such as the M.S. Yangtze 1 and the M.S. Blue Whale. The other is New Century Dock for most Yangtze Cruise ships from different cruise liners such as New Century Cruises and Victoria Cruises. These two docks are 5 km of each other.
Most of our customers go to these two docks from Yichang airport, which is called Sanxia Airport (三峡机场) .
The airport is 35.7 km from Taohuacun Dock. If taking a taxi, it takes 40 minutes and costs 100 yuan (not metered). Or you can take the shuttle bus (20 yuan per person) and get off at Qingjiang Building (清江大厦) after 50 minutes, and then take a taxi at 30 yuan to get to Taohuacun Dock.
It is about 38 km from the airport to New Century Dock. It costs 150 yuan and takes 45 minutes by taxi from the airport to the dock. The other choice is take the shuttle bus in the airport going to the city center (Qingjiang Building) at a cost of 20 yuan for a trip of about 50 minutes. Then transfer to New Century Dock at a cost of 35 yuan.
The airport is 40 km from the city center, a journey which will cost you 150 yuan by taxi, taking about 45 minutes. Or you can simply take a shuttle bus at 25 yuan for 50 minutes.

Tailor-make a Yangtze River Tour for You
Wanna take a trip to Yangtze River ? China Travel can tailor-make a Yangtze River tour for you based on your needs and requirements which can save your time, money, and trouble. Please feel free to tell us your tour ideas! >> Tailor-make Now! 
Recommended Yangtze River Tours: